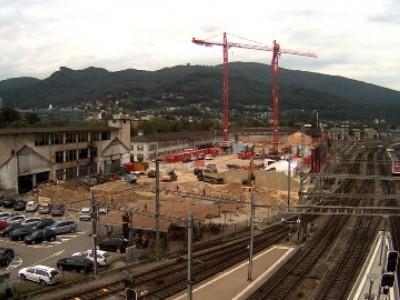 SWITZERLAND: The foundation stone for SBB's new Central Region control centre at Olten was officially laid on July 5, although preparatory work has been underway since last October. The ceremony was attended by Bruno Stehrenberger, Head of Operations at SBB Infrastruktur, the city's mayor Ernst Zingg and canton Solothurn's Director of Construction Walter Straumann.
Being built on part of the former carriage works site adjacent to the main station at a cost of SFr99m, BZ Mitte is expected to come into service in phases from the end of 2014 until mid-2016. It will be responsible for operations throughout the central and northwestern parts of the country, with a control area encompassing Basel, Bern, Brugg and Luzern. This includes key feeder routes to the trans-Alpine Gotthard and Lötschberg corridors.
Described by Stehrenberger as 'a quantum leap in managing train operations', BZ Mitte will house around 350 staff, bringing under one roof activities that are currently dispersed across more than 100 locations. He expects this to improve both day-to-day performance and the co-ordinating the response to any incidents.
The new centre at Olten is one of four which will manage all operations across the SBB network from 2016. BZ West in Lausanne went into service in May 2010, followed by BZ Ost at Zürich Flughafen which was inaugurated in December of that year. BZ Süd is now under construction at Pollegio, and is expected to open in 2013 in readiness for the start of test operations in the Gotthard Base Tunnel.
On July 4 the SBB board officially approved the funding for two maintenance and emergency response centres on the Gotthard corridor, which was reopened to traffic on July 2 following a lengthy closure due to a landslide in June. The SFr53m facility at Erstfeld and a SFr68m centre in Biasca are to be built as part of the base tunnel project, and are expected to open by the end of 2016.