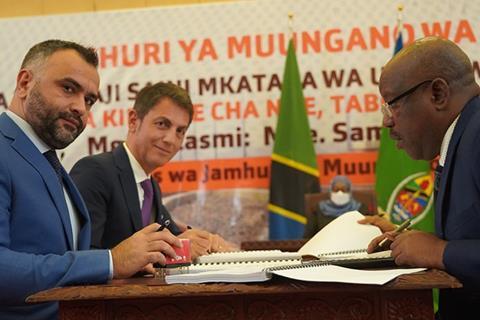 TANZANIA: Tanzania Railways Corp has awarded a contract to Turkish contractor Yapı Merkezi for the construction of Stage 4 of its expanding 1 435 mm gauge network.
Valued at US$900·1m, the contract covering 130 km of the main line between Tabora and Isaka and 35 km of connecting links is the last of the five principal sections of the Dar es Salaam – Mwanza corridor to be awarded. Civil works are expected to take 42 months, followed by six months of trial operation. The Stage 4 contract was signed at a ceremony on July 5 attended by the President of Tanzania Samia Suluhu Hassan.
Under development since 2012, Tanzania's electrified SGR network is eventually expected to total 2 561 route-km, running inland from the Indian Ocean coast at Dar es Salaam to Mwanza, Kigoma and Katavi, also serving parts of Rwanda, Burundi and the Democratic Republic of Congo.
Yapı Merkezi has been working since 2017 on the initial 202 km from Dar es Salaam to Morogoro, which it is building in a 50:50 joint venture with Mota-Engil Africa. Stage 1 is largely being financed by a US$1·2bn loan from Turkey's Export Credit Bank. The same grouping was selected for the 333 km Morogoro – Makutupora Stage 2, on which work began in 2019; that section is costed at US$1·9bn, of which US$1·46bn is funded through a loan from Standard Chartered Bank agreed in 2020.
A US$1·32bn contract for the 248 km Stage 5 from Isaka to Mwanza was awarded in January 2021 to a consortium of China Civil Engineering Construction Corp and China Railway Construction Co; this section is reported to be financed through Chinese loans.
On December 28 last year, President Hassan witnessed the signing of the Stage 3 contract, under which Yapı Merkezi will build the 294 km section between Makutupora and Tabora, along with 74 km of connecting tracks, at a total cost of TSh4·41tr.
Yapı Merkezi has also been selected as preferred bidder for the 371 km Tanzanian section of the proposed branch from Isaka to the Rwandan capital Kigali, as far as the border crossing at Rusumo.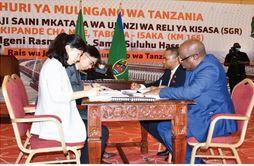 On July 4 TRC also signed an agreement with South Korea's national operator Korail for the provision of technical expertise and staff training ready for the handover of the first sections of the standard gauge railway.
TRC has ordered 80 electric multiple-units and 17 electric locomotives from Hyundai Rotem to operate the line, at a cost of 335·4bn won, and 59 coaches from Sung Shin RST for 64bn won. CRRC International is supplying 1 430 wagons of various types under a US$127·2m contract awarded in February 2022, with deliveries to be completed within 12 months.
According to TRC Director General Masanja Kungu Kadogosa, the total investment in the SGR project has now has reached TSh16tr.