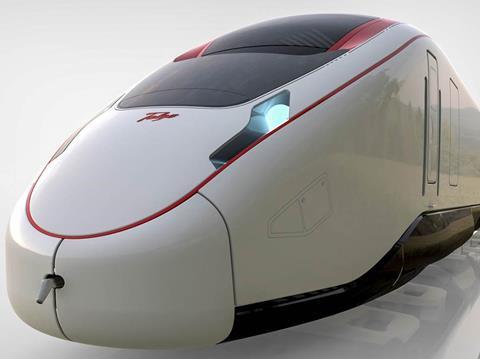 SPAIN: Infrastructure manager ADIF has selected Talgo to supply a gauge-convertible inspection train able to operate at up to 330 km/h on the high speed rail network as well as at lower speeds on conventional lines.
The train has been informally named 'Dr Avril' by the manufacturer, following the Japanese custom of designating such inspection trains as 'Doctor'.
The €39m order announced on October 8 covers the supply of an 8 MW trainset with six coaches and two multi-system electric power cars, along with the monitoring equipment and the provision of five years of comprehensive maintenance services.
Talgo said its low-floor Avril design was wider than comparable trains, providing more space for the monitoring equipment and operating staff.
ADIF currently operates three inspection trains based on Talgo technology: a Series 330 electric trainset for 350 km/h operation on 1 435 mm gauge high speed lines, nicknamed 'Seneca', and two gauge-convertible Series 355 sets with diesel power cars converted from the prototype Talgo XXI trainset.