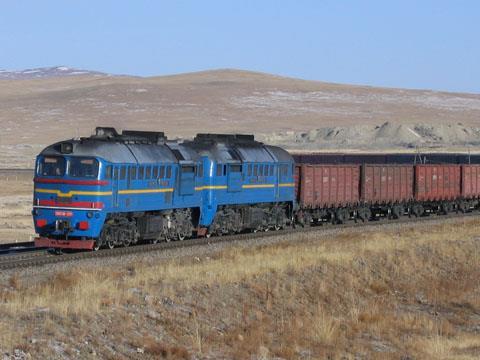 MONGOLIA: Russian Railways subsidiary RZD International is to provide technical assistance for the development of a 414 km rail link into the Tavan Tolgoi coalfield, following the signing of a co-operation agreement in Ulaanbaatar on December 3.
Initially expected to run for 12 months, the agreement was signed by the Acting Director General of RZD International, Sergey Stolyarov, and Damdinsuren Zhigzhidnyamaa, Head of Ulaanbaatar Railway, during an official visit to Mongolia by Russian Prime Minister Dmitry Medvedev.
Intended to carry up to 30 million tonnes a year, the 1 520 mm gauge line would run west from UBTZ's current railhead at Zuun-Bayan to the Tavan Tolgoi coalfield near Tsogttsetsi. With reserves estimated at up to 7 billion tonnes, this is a major a source of coking coal for steelmaking, much of which is currently moved by road to a railhead at Gashuun Sukhait on the Chinese border. Last year state-owned mining company Erdenes-Tavan Tolgoi committed to completing the railway by 2021, but as yet it has not put the necessary funding in place.
Working in partnership with a Russian design institute, RZD International is to provide technical consulting services for the project, including recommendations for managing the construction of the line and the subsequent of train operations.
'We consider this project as the beginning of long-term cooperation on the development of the railway infrastructure of Mongolia', said Stolyarov. 'RZD International is ready to offer its Mongolian partners modern technologies for the construction and repair of infrastructure facilities, which can improve the quality and efficiency of construction works, as well as increasing the capacity of the line while ensuring the safety of railway traffic'.