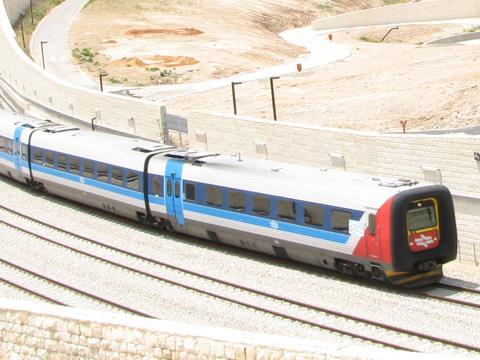 ISRAEL: Tendering for the construction of two new railway lines in northern Israel got underway this month.
On March 17 tenders were called for the initial section of a 23 km line from 'Akko to Karmi'el, with one intermediate station at Ahihud. The project is expected to cost US$780m and will be completed within five years as the first stage of a planned line to Qiryat Shemona near the Lebanese border.
Tendering is also begun for the US$1·1bn Jezreel Valley line. Running 60 km from Haifa via Nesher and 'Afula to Bet-She'an near the border with Jordan, this revives a route once served by the narrow gauge Hedjaz Railway. The double-track mixed-traffic line with six new stations will be designed for 160 km/h running. Tendering for the rest of the route will run into 2012, with the line scheduled for completion in 2016.
Transport Minister Yisrael Katz said the transport ministries of Israel and Jordan are planning an extension of the line across the Sheikh Hussein Bridge to Irbid in Jordan.
The railway projects form part of the Israel Ways transport programme. They are being managed by the state-owned National Roads Company, which although new to the rail sector has extensive experience of infrastructure projects.
The government has also approved electrification of the coastal route around Haifa, overruling objections made on environmental grounds.
On March 2 Vossloh España confirmed that ISR had placed firm orders for diesel locomotives worth €100m. Vossloh will deliver 14 Euro 4000 locomotives from November for use on passenger and later freight trains, while 15 Euro 3000 passenger locomotives will be supplied from September 2012, with options for more.