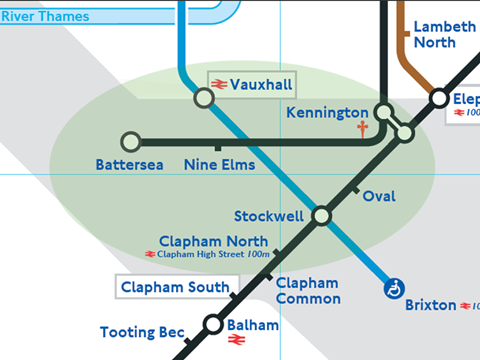 UK: Transport for London submitted a Transport & Works Act Order application on April 30 seeking legal powers for the construction of a 3·3 km extension of London Underground's Northern Line from Kennington to Nine Elms and Battersea.
As well as supporting regeneration of the Nine Elms area, TfL expects the extension to reduce pressure on Vauxhall station, relieve the Northern Line south of Kennington and provide improved access to leisure and employment opportunities for local residents.
There will now be a seven-week consultation period, with a public inquiry likely to be held in the autumn. TfL expects the government to make a decision by autumn 2014. If powers are obtained and a funding package secured, construction could begin in 2015 for opening in 2020.
The government's 2012 Autumn Statement confirmed that up to £1bn of borrowing from the Public Works Loan Board would be made available to the Greater London Authority to finance the project. This would be repaid using income from business rates in a new Enterprise Zone, and private developer contributions under the Section 106 and Community Infrastructure Levy regimes.
'Bringing the Tube to Battersea has long been the ambition of this council and we are now within touching distance', said Ravi Govindia, Leader of Wandsworth Council and Chair of the Nine Elms Vauxhall Partnership. 'This project is the key to unlocking Nine Elms on the South Bank's full potential and delivering 25 000 new jobs and 16 000 new homes.'
The first of the Northern Line trains to be refurbished by Alstom is scheduled to return to passenger service this week. Changes include new flooring, modifications to comply with accessibility legislation and improved access for maintenance.