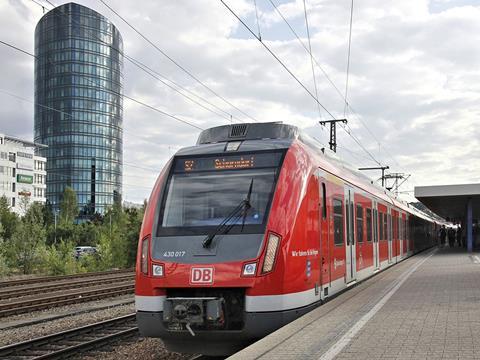 GERMANY: Deutsche Bahn has awarded Thales the contract to implement modules 1 and 2 of the Digital Node Stuttgart project to deploy digital signalling systems to increase rail capacity around the city.
The €127m contract running to the end of 2025 covers the supply and installation of ETCS Level 2 on around 100 track-km, preliminary work for the deployment of trackside equipment to support GoA2 attended automatic train operations, a capacity and traffic management system and a control centre; as well as more than 6 000 balises, 1 300 axle counters and around 650 point machines.
Long term aspirations of DNS include providing block sections just 30 m in length on the main S-Bahn route to reduce delays and increase capacity without needing additional tracks.
'The first digital node in Germany is going to be the reference point for other metropolitan regions throughout Europe for years to come', said Oliver Dörre, CEO & Country Director at Thales Deutschland. 'Together with Deutsche Bahn, DB Netz and DB Projekt Stuttgart-Ulm, we are pleased to help design the blueprint for future digitalising projects.
'We are very familiar with the node Stuttgart from earlier projects and now look forward to actively co-operating with our customer at the highest level of technology in the improvement of the offering for rail passengers', he added.