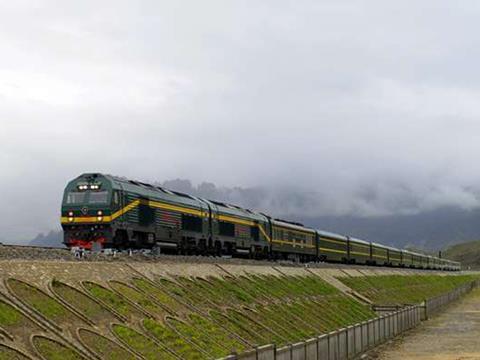 CHINA: A 253 km line from Lhasa west to Xigaze was formally opened on August 15, with the first passenger train scheduled to run the following day. The new line will reduce the journey time between Tibet's capital and second largest city from 4 h by road to around 2 h by train.
China Railway Construction Corp subsidiaries officially began construction of the line on September 26 2010, with a budget of 13·3bn yuan.
The single-track alignment is designed for a maximum speed of 120 km/h, reflecting the difficult terrain which has required 29 tunnels and 116 bridges totalling around half of its length. The alignment passes through the 60 km Yarlung Zangbo Grand Canyon where the geological conditions include hot springs, and was required to avoid drinking water sources and nature reserves.
Later this year work is to begin on a project to increase capacity on the Golmud – Lhasa line, which opened in 2006 and is operated using GE Transportation NJ2 locomotives.
CNR Dalian has supplied 30 HXN3 mixed traffic diesel locomotives for the Xigaze extension, customised to cope with the thin air, bright sunlight, low temperatures and wind at altitudes of 4 000 m.
Construction of a 433 km line from Lhasa east to Nyingchi near to the disputed Indian border is scheduled to start shortly. Chinese media reports suggest that links to India, Nepal and Bhutan could be completed by 2020.