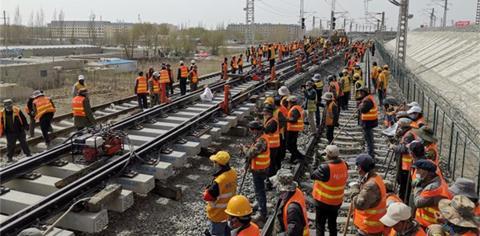 CHINA: Revenue services are expected to start running at the end of June on the Qinghai section of the 1 214 km Golmud – Korla railway, following the completion of construction work at the end of April.
The strategic north-south line connects the long straggling route running west from Urumqi to Kashi with the 1 956 km Xining – Golmud – Lhasa route serving Tibet. It is being developed as part of China Railway's strategic programme of rail expansion in the west of the country, which includes an ambitious plan to build a complete rail ring around the Taklaman desert in Xinjiang autonomous region.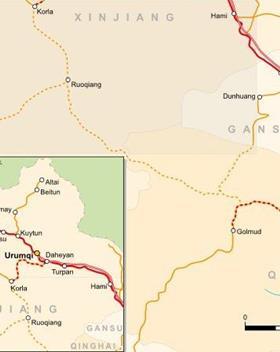 China Railway Qinghai-Tibet Group Co Ltd held a ceremony at the Golmud River Block Post, 7·3 km west of Golmud, on April 24 to install the final connection between the southern end of the new line and the Qinghai – Tibet railway, inaugurated in 2006.
The railway's Construction Directorate said it had 'adopted a series of measures to ensure smooth construction and safety', following the resumption of work after the coronavirus outbreak. 'All construction participants on the Golmud – Korla Railway have strictly implemented the epidemic prevention and control requirements', explained Engineering Director Ju Bangqiang. He added that the contractors had 'adopted a series of measures to make up the construction progress lagged due to the epidemic, providing a strong guarantee for the opening to traffic of the Qinghai section on schedule'.
Opening of the Xinjiang section at the end of the year will cut the journey time by rail between Golmud and Korla from 26 h to about 12 h. According to CR, opening of the new railway will be 'of great significance in promoting resource development and poverty alleviation in regions along the line, increasing economic and trade exchanges between Qinghai and Xinjiang, and strengthening the unity of regions inhabited by ethnic minority groups.'