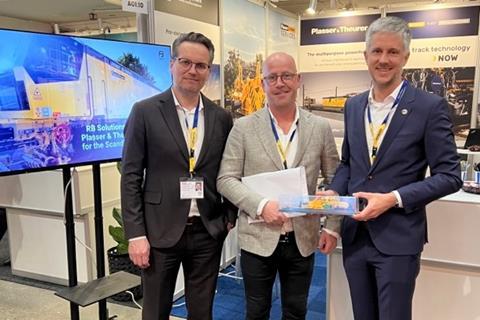 EUROPE: RB Solutions has awarded Plasser & Theurer contracts to supply a Unimat 08-4x4/4S tamping machine by the end of 2025 and a USP 2010 SWS universal ballast distributing and profiling machine in April of that year.
The Austrian manufacturer said the two machine types were already approved for use in Sweden and Norway. The tamper would have provision for the installation of ETCS and would also be suitable for use on 1 668 mm Iberian gauge tracks.
RB Solutions CEO Marthin Lundström said the order for new track maintenance machines was a natural development of the company's activities with pre-owned equipment. 'In close collaboration with Plasser & Theurer and Plasser Scandinavia, we can deliver approved machines with warranty, training, and service agreements according to the needs of our customers', he explained when the contracts were announced on April 27.
Plasser & Theurer Sales Director Göran Sjöström said RB Solutions was a new customer, which was 'breaking new ground for the Scandinavian market' by offering new track construction and maintenance machines for lease.
'It is a unique opportunity for infrastructure managers and contractors to use cutting-edge technologies and approved machines and to be able to meet short-term needs', he added.