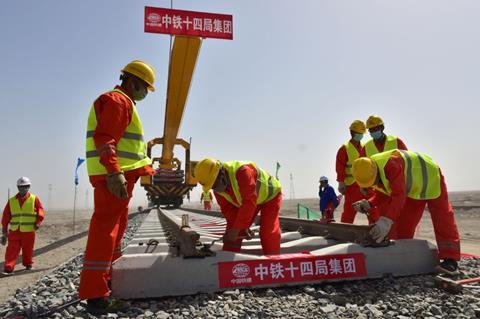 CHINA: Tracklaying has started on the Ruoqiang – Hotan railway across the southern part of the Xinjiang Uyghur Autonomous Region. This will complete a planned railway loop circling the Takliman Desert.
Running east from the current railhead at Hotan south of Kashgar to Qiemo and then northeast to Ruoqiang, the 825 km line will have 65 stations, serving a string of small towns between the Tarim Basin and the Altun Shan mountain range. It will connect at Ruoqiang with the 1 214 km Golmud – Korla line now nearing completion.
Designed for operation at up to 120 km/h, the single track line was authorised by the National Development & Reform Commission in May 2018. Construction was formally started on December 20 that year, and completion is expected by mid-2022. Capacity is being provided for up to eight daily passenger trains each way and around 15 million tonnes of freight per year.
Total cost of the project is put at 22bn yuan, of which the national government is contributing 54·2%, Xinjiang Uyghur Autonomous Region 23·3% and China Railway 22·5%. This budget includes 790m yuan for rolling stock.
Project Manager Zhang Gang told local media that China Railway 14th Bureau Group had established a management and construction team with 'rich experience in desert railway construction' to work in the 'intricate natural environment', and a research team to support the project. Reporting that the construction teams will be 'working around the clock' to lay an average of at least 2 km per day, he said the target was to complete 520 km of track and 19 stations by the end of this year.