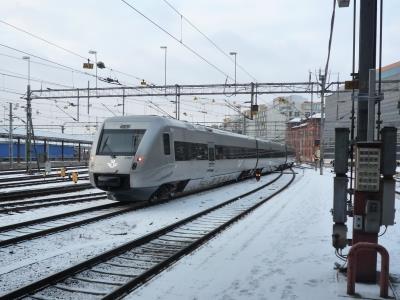 SWEDEN: Transport infrastructure authority Trafikverket formally launched its 2018-29 national plan on August 31, submitting its spending proposals to the government and starting a three-month public consultation process. Formal adoption of the plan is expected in the spring of 2018.
The national plan covers state-owned infrastructure for all modes, including road, rail, maritime transport and aviation. According to Director General Lena Erixon, the plan responds to the government's ambition for 'a modern, efficient and sustainable transport system'. The state funding envelope will be SKr622·5bn, an increase of SKr100bn on the current plan period. In addition to this, Trafikverket anticipates that SKr90bn will be raised through road congestion charges, track access fees and co-financing.
Around SKr280m is allocated for rail investment, of which SKr125m is intended for maintenance and renewal of existing infrastructure and the rest for enhancements. There would be a 47% increase in maintenance spending, which Erixon said would 'restore the functionality of the railways'; much of this is to be targeted at the main corridors used by commuter and freight traffic. Implementation of ERTMS and other digitisation initiatives are expected to increase capacity and efficiency.
Enhancement projects include four-tracking the Uppsala – Stockholm line, the first stretch of the Norrbotniabanan north of Umeå, the final section of the West Coast main line remodelling at Helsingborg and further expansion of the Ostkustbanan north of Gävle. Work will be pushed ahead on the Ostlänken and Lund – Hässleholm sections of the proposed national high speed network, although neither project is now expected to be completed within the plan period.
Other works will facilitate the operation of 750 m long freight trains on much of the network, and increase axleloads on the Malmbanan iron ore line. This is expected to contribute to the decarbonisation of freight transport through modal shift. The ongoing Hallsberg – Mjölby upgrading is to be completed, along with the new Hamnbanan and Vastlänken cross-city tunnel in Göteborg. Accessibility improvements are planned for many regional lines.