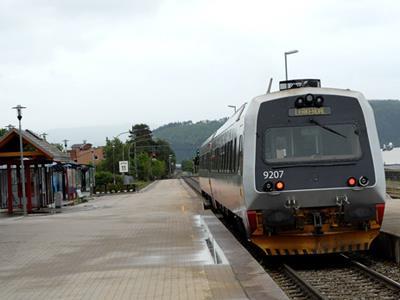 NORWAY: A NKr12·6bn plan to upgrade the railway between Trondheim and Steinkjer was announced by Marit Arnstad, Minister for Transport & Communications, on September 10.
The regional authorities have long campaigned for electrification of the route, hoping to reduce the journey time to below 1 h. The current plan will bring the fastest journey time down to 1 h 19 min, short of the original goal but competitive with the parallel road for the first time in decades. The project would see a peak service of a train every 15 min between Trondheim and Stjørdal, with every second train continuing to Steinkjer.
The railway upgrade is planned in conjunction with an upgrade of Norway's main north - south road along the same route, modelled after the Eidsvoll - Sørli project which has delivered cost savings.
The rail element includes extending the electrification to Steinkjer, track doubling between Trondheim and Stjørdal where the region's main airport is located, and longer passing loops. A new tunnel between Devla and Åsen would reduce the risk of the railway becoming obstructed in an area of unstable quick clay which is prone to landslides.