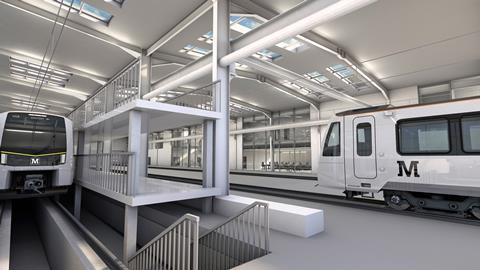 UK: Stadler has appointed VolkerFitzpatrick to rebuild the Tyne & Wear Metro's Gosforth depot, where the Swiss company will maintain for 35 years the 46 five-car 1·5 kV DC light metro trainsets which it is to supply for entry into service from 2023.
Rebuilding the depot accounts for £70m of the £362m fleet replacement programme being led by transport authority Nexus. Work is scheduled to begin this year for completion by 2025.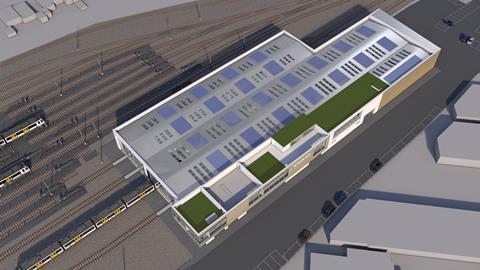 The existing Gosforth depot dating from 1923 will be demolished, making way for a new facility designed by Ryder Architecture. This will include inspection roads and pits, cranes, jacks, testing equipment, automatic inspection technology, a wheel lathe and a washing plant, as well as storage for spare parts and office space with training facilities.
The building has been designed for sustainability and to provide an attractive environment for employees, with all workspaces having windows. Energy efficient lighting is to be installed throughout, and there will be solar panels on the roof and rainwater harvesting to feed the train washing plant and depot toilets.
'We are keen to use local suppliers for materials and services required for the depot rebuild, the manufacturing of the new trains and the ongoing service and maintenance of the trains', said Robert Baxter, Managing Director of Stadler Rail Service UK on June 15.
Buckingham Group Contracting has built a temporary depot at Howdon which will be used for some train cleaning and preparation activities during the redevelopment of the Gosforth depot.