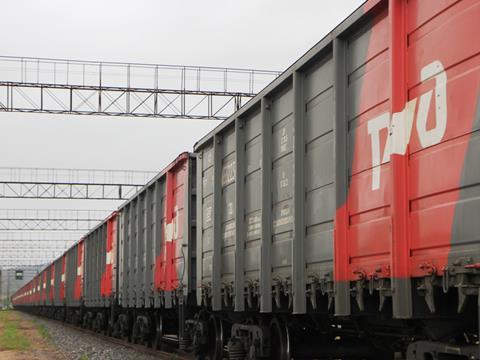 RUSSIA: A agreement to co-operate build the proposed 410 km Elegest – Kyzyl – Kuragino Railway in the Republic of Tyva was signed by Russian Railways President Oleg Belozerov and Ruslan Baisarov, Managing Director of coal mining concession holder Tuva Energy Industrial Corp, at the St Petersburg International Economic Forum on June 1. Completion is envisaged by 2022.
The line is intended to link the Elegest coalfield with the Russian Railways network at Kuragino. Traffic is estimated at up to 15 million tonnes of coking coal per year.
Under the latest plan, the Russian government would to award a concession for construction of the line to TEIC Kyzyl-Kuragino, a special-purpose subsidiary of Tuva Energy Industrial Corp which would be the line's main customer. Russian Railways would invest in the capital of TEIC Kyzyl-Kuragino, and would supervise the choice of technology used before taking on responsibility for infrastructure management and train operations on the completed line. The cost of construction is now estimated at 192·4bn roubles.
The route of the line was agreed in early 2009, when it had been planned that Russian Railways would build the line with the estimated 98·6 rouble cost to be shared equally by the Russian Federation Investment Fund and the mining concessionaire. The Tyva government and the mining company signed a public-private partnership agreement in August 2009, but in November 2012 the federal government removed the line from its list of state investment projects, leaving the project to be financed privately.
In May 2015 Tuva Energy Industrial Corp signed a memorandum of understanding with the China Civil Engineering Construction Corp subsidiary of China Railway Construction Corp, which planned to seek Chinese investment for the project which was then costed at 156bn roubles.