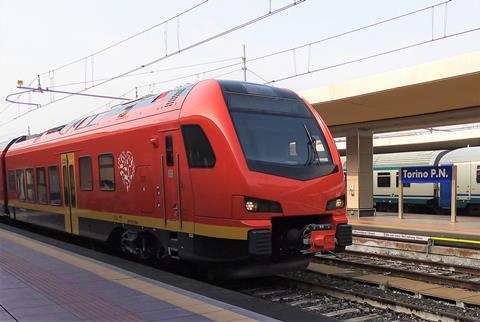 ITALY: Electrification of the 66·3 km Ivrea – Aosta section of the Chivasso – Aosta line by 2026 has been included in the National Recovery & Resilience Plan, Deputy Minister of Infrastructure & Transport Giancarlo Cancelleri has announced.
Infrastructure manager RFI estimates that electrification will cost €110m, with €86m to be financed through the recovery plan. Substations would be built at Aosta, Chatillon and Donnas, and tunnels and bridges would be reconstructed to accommodate the overhead wires.
Cancelleri also announced a feasibility studying for double tracking the 32·4 km section between Chivasso and Ivrea, which was electrified in 2006.
The Chivasso – Aosta line is currently operated by Trenitalia under contract to the Valle d'Aosta region which owns the fleet of five Stadler Flirt electro-diesel multiple-units deployed on the route.
Ordered 2015 at cost of €43m including five years of maintenance, these units are rated at 2·6 MW with a maximum speed of 160 km/h when operating from 3 kV DC electrification, and 700 kW with a maximum speed of 140 km/h when powered by the two Stage IIIB compliant Deutz TCD 16.0 V8 diesel engines.
Reopening of the 31·4 km Aosta – Pré-Saint-Didier line which closed in 2015 is also being considered. The local authorities are working with RFI on a project to upgrade the line for 18 tonnes axleloads, which would allow the Flirts to operate on this section, although funding has not yet been secured.