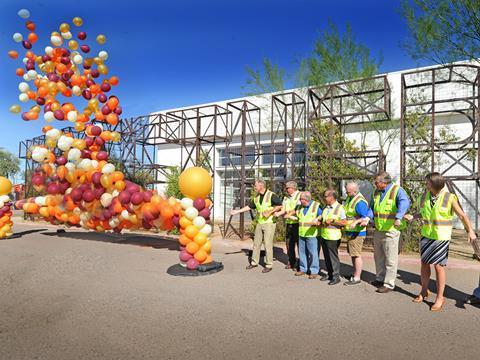 USA: A balloon release marked the official start of construction on the Gilbert Road Extension of the Valley Metro network in the city of Mesa, Arizona on October 15.
A 5 km extension from Phoenix to central Mesa opened in August 2015. The latest project will extend this route 3 km along Main Street from Mesa Drive to Gilbert Road by early 2019.
Construction is being undertaken by Stacy & Witbeck and Sundt. The cost of the $152·7m project is being met from federal and local funds.
'By breaking ground on the Gilbert Road Extension, we continue to build our NextMesa', said Mesa Mayor John Giles. 'We have seen how light rail has revitalised our downtown and now we're extending the benefits of light rail to new neighbourhoods and the greater East Valley.'
'This extension is the East Valley's gateway to countless connections in Mesa, Phoenix and Tempe', said Valley Metro Interim CEO Scott Smith. 'Expanding regional travel options is important for future riders and has proven itself as a catalyst for strong economic activity.'