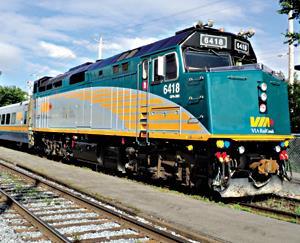 CANADA: VIA Rail Canada has acquired the Brockville Subdivision from Canadian Pacific. This comprises 45 km of single track between Smiths Falls and Brockville on the Ottawa – Toronto route in Ontario.
'This acquisition will strengthen our rail network dedicated to passenger trains in the Ottawa region, where VIA Rail owns more than 200 km of track', said VIA Rail President & CEO Yves Desjardins-Siciliano on November 23.
VIA Rail has spent C$20m on the subdivision in recent years, introducing centralised traffic control, adding two passing places and realigning curves. The improvements and ownership of the track between Ottawa and Brockville mean VIA Rail is 'well positioned to improve our reliability and our on-time performance going into and out of Ottawa', said Desjardins-Siciliano.