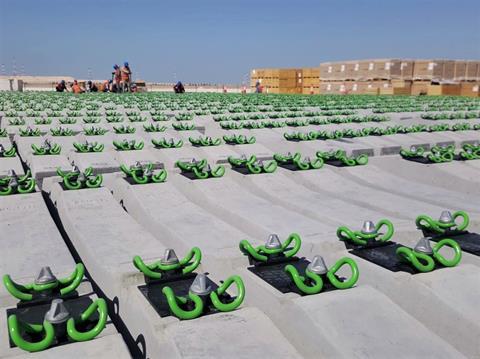 UAE: Rail fastenings and turnouts for Package 2A of the Etihad Rail network are to be supplied by Vossloh, under a contract awarded by the joint venture responsible for the 139 km Ruwais – Ghuweifat line.
The contract to build this section was awarded in March 2019 to a joint venture of China State Construction Engineering Corp and South Korea's SK Engineering & Construction. As with other parts of Stage Two, the 1 435 mm gauge line has been designed for mixed-traffic operation, and will be mainly double track. Passenger trains would be able to run at up to 200 km/h and freight trains at up to 160 km/h. Maximum axleload will be 32·5 tonnes.
Vossloh is due to supply by October 2020 a total of 38 turnouts and sets of W30HH rail fastenings for 495 000 concrete sleepers to be used on Package 2A.
The company had previously supplied turnouts and fasteners for the 264 km Stage One freight line linking the gas fields at Shah and Habshan with the port and industrial city at Ruwais in Abu Dhabi emirate.