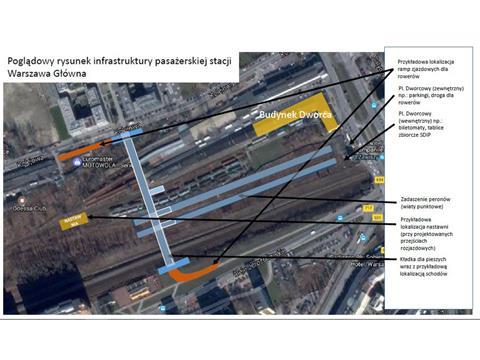 POLAND: Infrastructure manager PKP PLK has selected Trakcja PRKiI's 99m złoty bid for a design and build contract to reopen Warszawa Główna station.
The terminus was originally opened in 1945 on the site of a former former freight facility. It is located 1 km west of a previous Warszawa Główna, a through station which had been built in 1938, was destroyed during World War II in 1944 and which is now the site of the Warszawa Śródmieście local station opened in 1963.
Warszawa Centralna opened as the capital's main station for long distance traffic in 1975, and the following year Warszawa Główna closed to passenger traffic. It later became a railway museum, which is now to be relocated.
The reconstructed Warszawa Główna will have two island platforms, as well as stabling sidings. It will be connected to Warszawa Zachodnia station using an alignment which has been out of use since 1976, with a flyover crossing the approach to Warszawa Centralna.
The revived terminus is to be used for some long distance services during the planned closure for modernisation of two of the four tracks between Warszawa Zachodnia and Wschodnia, and it will then be used to accommodate terminating services which are prevented from using Centralna because of capacity constraints.