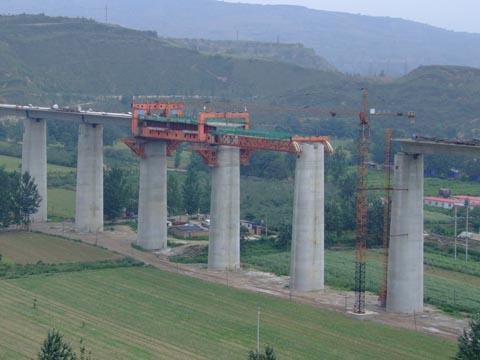 CHINA: Construction of the Xi'an - Chengdu railway is set to be start by the end of the year, after the National Development & Reform Commission approved First Survey & Design Institute's alignment during November. Work is scheduled to take four years at a cost of 70·8bn yuan.
The 511 km route will run from Xi'an through Hanzhong, Guangyuan and Jiangyou to link with the Mianyang - Chengdu - Leshan passenger line, serving one existing, six new and three rebuilt stations. The difficult terrain includes a crossing of the Qinling mountain range, requiring a quarter of the route to be in tunnel. There will be six tunnels of more than 10 km, including the 16 km Tianhuashan tunnel.
The double-track electrified line will be built to Passenger-Dedicated Line standards and designed for 250 km/h running, cutting the 13 h journey to around 2 h. Traffic is estimated at 70 million passenger-journeys a year.
Xi'an is being developed as a hub for a number of high speed lines serving the inland areas of China, which are currently less developed than the coastal regions.