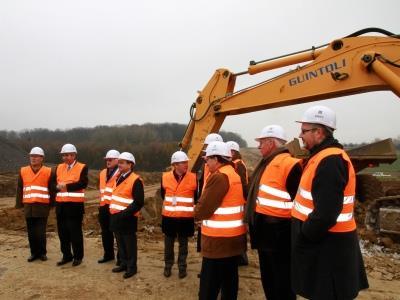 FRANCE: Construction work for the second section of LGV Est Européen was officially inaugurated on November 18, when RFF President Hubert du Mesnil hosted a ceremony at Steinbourg in the département of Bas-Rhin.
Among the VIPs attending the event was Philippe Richert, the former President of the Alsace regional council and now local government minister at the Ministry of the Interior, and the Préfet of Alsace Pierre-Etienne Bisch.
Civil works had in fact begun in June following the award of four contracts covering significant sections of the alignment. RFF began tendering the main construction contracts as soon as the financing package for Phase 2 had been finalised in September 2009.
Covering the construction of 106 route-km between the end of LGV Est Phase I at Baudrecourt in Moselle and Vendenheim in Bas-Rhein, the second section is expected to open for revenue service in 2016. It will cut Paris – Strasbourg journey times to 1 h 50 min, compared with the current best timing of 2 h 20 min following the opening of Phase 1.
According to du Mesnil, 'the popular success of the first section of the new high speed line has supported the launch of work on the second phase. This project reinforces the central role of the French rail network at the heart of the major economic regions in Europe.' The project is expected to generate around 6 000 jobs in the local area over the next five years.