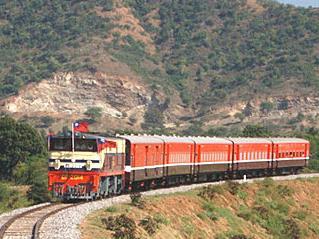 MYANMAR: A joint team of local and Chinese engineers has started work on ground surveys to finalise the alignment for the planned 431 km rail link from Mandalay to the Chinese border at Muse.
Intended to link Myanmar with Kunming, the line is being promoted as part of the China-Myanmar Economic Corridor within the Belt & Road Initiative. According to the Ministry of Transport and Communications, the route would broadly follow the existing line northeast from Mandalay to Nawnghkio and Lashio before turning north towards Muse.
Surveying began on January 6 and is expected to be complete by mid-April, although Ministry of Transport & Communications Permanent Secretary U Win Khant said negotiations were still underway with the Ministry of Home Affairs for access to some areas in Shan state 'due to security concerns'.
Under a memorandum of understanding with Myanmar Railways signed in October, China Railway Eryuan Engineering Group will cover the full cost of the study, which will also assess the environmental and social impacts of the proposed railway.
The 1 435 mm gauge electrified railway is being designed for a maximum speed of 160 km/h, with the ministry envisaging Mandalay – Muse journey times of around 3 h compared with 8 h by road. There would be at least five passenger stations and seven freight terminals along the route, although the exact locations remain to be determined.
According to the ministry, the line is would form part of the South Transportation Corridor of the UNESCAP-promoted Trans Asian Railway Network. Dismissing concerns that the scheme project could burden Myanmar with unsustainable debts, Minister of Transport & Communications U Thant Sin Maung told local media that the railway was one of five priority corridors in Myanmar's national transport master plan.
The government established a steering committee in November to co-ordinate its involvement with various Belt & Road projects. China is also to fund studies for a new road to link Ruili in Yunnan province to the Bay of Bengal port of Kyaukphyu in Rakhine state. An agreement to develop an 810 km railway in this corridor had been signed in 2011, but that project lapsed three years later.