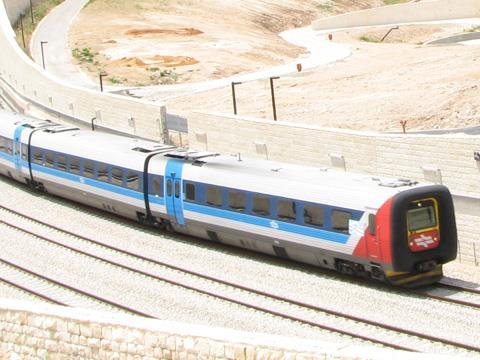 ISRAEL: Infrastructure works for the 60 km Ashkelon - Be'er-Sheva line were formally launched by Israel Railways on July 4. The US$500m project has been designated as of national importance and is scheduled for completion in early 2015. Initial work has already been undertaken on the Ashkelon - Yad Mordekhay section of the route.
The line is being built as single track but with provision for future doubling. It will have stations at Shderot, Netivot, and Ofakim, and provide an Ashkelon - Be'er Sheva journey time of 45 min.
Contractor Elyakim Ben-Ari is responsible for the earthworks at a cost of US$61m, while Shikun-u-Binui has a US$17·5m contract for construction of the 450 m Shikma and 250 m Bohu bridges.
'The railways are the answer to high and unaffordable prices of real estate at the centre of Israel', said ISR General Manager Yitzhak Harel. 'Building railway lines reduces geographical and socio-economical gaps by providing convenient and fast access to the main cities, as well as widening employment horizons at the periphery.'
The government has instructed National Roads Co to start work on the east-west Road 531 project, which includes construction of a 7·2 km double-track railway along the central reservation to connect the Kfar Sava line to the Tel Aviv - Haifa coastal route.
The Israel Ways transport investment programme was described in the May 2010 issue of Railway Gazette International.