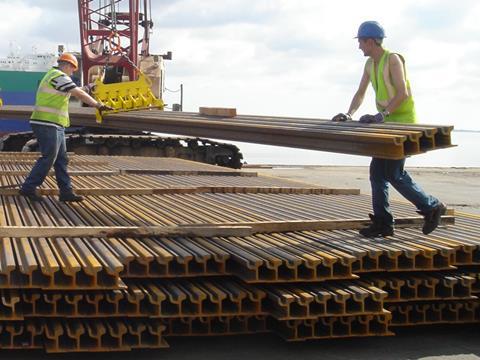 Bulgaria: A consortium of Stanilov, GP Group and Metroproject Praha is to build a 1·3 km extension of Sofia metro Line 2 for 42·4m lev.
China: Hong Kong's MTR Corp has awarded Leighton M&E a A$26m contract to build To Kwa Wan station.
France: RATP has selected a consortium of Eiffage and Razel-Bec to undertake civil works on the 3·6 km metro Line 14 extension from St Lazare to Porte de Clichy. The €200m contract has been funded as part of the Grand Paris project.
India: Rail Vikas Nigam Ltd has awarded KEC international a Rs2·28bn electrification, civils, signalling and telecoms contract in Uttar Pradesh. It has appointed a consortium of GMR Infrastructure, Tata Projects and Kalindee Rail Nirman to undertake double tracking between Jhansi and Bhimsen at a cost of Rs2·67bn.
Oman: Dohwa Engineering was lowest bidder for the contract to provide project management consultancy services for the development of the national rail network.
Philippines: A consortium of Foresight Development & Surveying Co, Soosung Engineering and Korea Rail Network Authority has been awarded a 248·8m peso contract for civil works on the eastern extension of Manila metro Line 2.
Poland: PKP PLK has awarded a Thales-led consortium a €100m contract to install GSM-R and ETCS Level 2 on the 125 km Warszawa Zachodnia – Koluszki – Łódź Widzew route.
PKP PLK has awarded ZUE a 52·2m złoty contract to modernise 19 km of the Wrocław – Jelenia Góra line by November 2015.
PKP SA has awarded SKB a 4m złoty contract to modernise Rawicz station, providing step-free access, restoring the front elevation to its original form and replacing the roof.
ZUE has a 71·8m złoty contract to rebuild Grodzisk Mazowiecki station.
Portugal: Within a budget of €6·4m, Refer has called tenders for the electrification of the 14 km Caíde – Marco de Canaveses section of the Porto – Régua route.
Singapore: LTA has awarded contracts for three stations on the Thomson Line. Penta-Ocean Construction is to build Sin Ming for S$454m, Gammon Construction will build Havelock for S$210m and Taisei is to build Marina Bay for S$425m.
Spain: ADIF Alta Velocidad has awarded a Siemens/Telice JV a €22·5m contract to supply and maintain two traction substations for the Valladolid – León high speed line, and a third for the Venta de Baños – Burgos route. They are also to install OHLE, point heaters and tunnel lighting between Venta de Baños and Burgos under a separate contract worth €9·5m.
ADIF has awarded Indra Sistemas a 24-month contract worth €11·8m to maintain systems in the Madrid, Antequera, Albacete, Zaragoza and Segovia high speed line control centres,
Serbia: On March 6 RZD International signed a contract for modernisation of a further 112 km of Corridor X, funded by Russian export credits.
Sri Lanka: China National Machinery Import & Export Corp has been awarded a US$600m contract funded by China for construction of the Beliatta – Kataragama line.
UK: Kirow is to supply a further 24 turnout transport wagons to Network Rail.
ABB and UK Power Networks Services have signed a £100m contract to supply 30 autotransformer sub­stations for Network Rail's Great Western electrification programme.