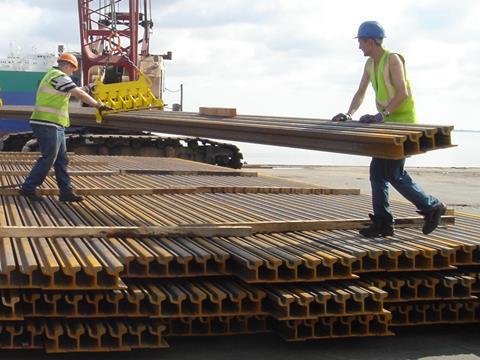 Bangladesh: The government has awarded Oriental Consultants Global, Chodai, Developed Design Consultants and ACE Consultants a 7·48bn taka contract to provide consultancy services for the construction of a planned 4·8 km dual-gauge railway bridge across the River Jamuna near the existing Bangbandhu Bridge.
China: China Railway 24th Bureau Group Co is to build the Chengdu Airport southern line for 3·68bn yuan.
Denmark: Banedanmark has awarded Per Aarsleff a DKr113m contract to build a 1 km grade separated connection to the new København - Ringsted line between Ny Ellebjerg and Vigerslev Alle stations in Valby. Completed is planned for April 2019.
France: A joint venture led by Vinci Construction Grands Projets and including Spie Batignolles TPCI, Dodin Campenon Bernard, Vinci Construction France, Spie Fondations and Botte Fondations has been awarded a €926m contract to undertake civil works on an 8 km section of Line 15 South of the Grand Paris Express network, between Fort d'Issy Vanves Clamart and Villejuif Louis-Aragon.
Italy: Italferr has awarded a consortium of Salini Impregilo and Astaldi a €397m contract to build the 15·5 km Napoli - Cancello section of the Napoli - Bari high speed line by 2022.
Malaysia: Four more works packages have been awarded for the SSP Line in the Klang Valley. Trans Resources Corp is to build the Kampung Muhibbah - Serdang Raya section for 858·2m ringgit; Gadang Engineering will build the Serdang Raya - UPM section for 952·1m ringgit; and Acre Works has a 716m ringgit contract covering the Persiaran Alpinia - Persiaran APEC section. Sunway Construction is to build Damansara Damai, Sri Damansara West, Sri Damansara East stations for 212·3m ringgit.
Poland: Dolkom is to overhaul and recalibrate PKP PLK's Plasser & Theurer EM120z track measuring train for 2·39m złoty, adding air-conditioning and retention toilets.
PKP PLK has awarded Track Tec Construction, Infrakol, Leonhard Weiss and Intop a 368m złoty contract to modernise and electrify the 105 km Lublin – Stalowa Wola line by mid-2019.
ZUE is to modernise the 41 km Zawiercie – Częstochowa line by 2020 for 457m złoty, and will also modernise the 16 km Kraków Płaszów – Podbory Skawińskie route for 192m złoty, raising speeds and providing two halts.
A consortium of Intercor and Tor-Krak is to build a 4·5 km extension of the Kraków tram network to Górka Narodowa in 3½ years for 326m złoty.
ZRK DOM has ordered a ZPS Stargard OT-84 ballast cleaning machine with TMS-40 wagons for 24m złoty, envisaging that the ability to reduce possession times will help it win infrastructure contracts.
A consortium of Track Tec Construction, Swietelsky Rail Polska, Swietelsky Baugesellschaft, Infrakol, Leonhard Weiss and Intop Warszawa has won a 528m złoty contract to rebuild the 60 km Warka – Radom line as a double-track route suitable for 160 km/h.
Trakcja PRKiI is to undertake track, electrification and signalling renewals at Biała Podlaska, Małaszewicze and Terespol for 514m złoty.
NDI and PPMT are to upgrade the 57 km Gardeja – Malbork line for 261m złoty to raise speeds from 80 km to 120 km/h by November 2019.
Portugal: Metro do Porto has awarded Expoentinédito a €448135 contract to build Modivas Norte stop on Line B within four months.
Russia: RZD has awarded contracts for Evraz to supply 700 000 tonnes of rail this year, and Mechel 330 000 tonnes.
Sweden: Systra Dalco Elteknik has been appointed as technical consultant for the lengthening to 630 m of the Åmsele passing loop, the only place where trains can pass on the 60 km Hällnäs - Lycksele route.
UK: Network Rail intends to award Resonate Group a contract to upgrade the IECC Scalable traffic control systems at the Didcot & Thames Valley Signalling Control Centre. This would provide increased functionality in the medium term pending the deployment of a full traffic management system under the Digital Railway programme.
USA: Fort Worth Transportation Authority has awarded Wabtec a $97m contract to provide signalling, telecoms and a control centre for TEX Rail.