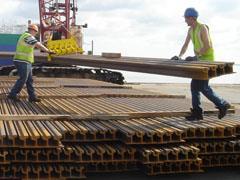 Algeria: Anesrif has awarded the Estel joint venture of SNTF and Siemens a contract to supply ETCS Level 1 signalling and telecoms including Trainguard 100 train control, Vicos control systems and 16 interlockings for 290 km of the High Plateau line between M'Sila, Boughzoul and Tissemsilt by the end of 2014. Siemens' share is worth €132m.
Australia: Rio Tinto Iron Ore has awarded Ansaldo STS a second signalling and telecoms contract within the five-year A$467m framework signed in November 2010. The A$45m deal announced on July 13 covers equipment for the Hope Downs 4 project.
Newcastle Coal Infrastructure Group has awarded Ansaldo STS a A$9·6m contract to supply signalling for a second expansion of Newcastle's Kooragang coal terminal.
Canada: Thales has been awarded a C$45m contract to provide radio-based SelTrac CBTC for 10 km of track and the entire fleet of 94 LRVs as part of the extension of Edmonton's North LRT to Northern Alberta Institute of Technology, scheduled to open in April 2014.
Chile: Balfour Beatty Rail has been awarded a three-year contract renewable for two years to maintain Metro de Santiago lines 1, 2, 4, 4A and 5, totalling 104 km.
Croatia: Furrer+Frey has installed what it says are the first overhead conductor rails in Croatia in three tunnels totalling 1·6 km.
Denmark: Banedanmark has appointed Atkins and Cowi to undertake detailed design for double-tracking of the Northwest line from Roskilde to Holbæk, which will involve three three-month summer closures.
India: Mumbai Railway Vikas Corp has awarded Frauscher Sensortechnik a contract to supply ACS2000 axle-counters for instllation on the Mumbai division of the Western and Central railways.
Israel: National Roads Co has selected Terre Armee to build the western 6·5 km of the 23km 'Akko – Karmi'el line.
Singapore: Land Transport Authority has awarded CMC di Ravenna contracts to build the Tampines West (S$227m) and Bedok Reservoir (S$196m) stations for the Downtown Line Stage 3 project by 2017.
Switzerland: Nexans has won a €12m contract to supply signalling, safety system and medium-voltage power cables to SBB, and a €5m contract to upgrade copper and optic fibre cables for BLS.
SBB Infrastruktur has awarded Ets Röthlisberger a contract to supply beech and oak sleepers.
UAE: Etihad Rail has selected PCM Strescon to supply concrete sleepers for the first phase of the national railway construction programme.
UK: Crossrail Ltd has awarded the Costain Skanska JV a £250m contract to build a 260 m long, 25 m wide and 23 m deep station adjacent to the existing main line station at London Paddington.
Welding Alloys Ltd has won its first order for the D3 Gauge Corner Restoration automated welding machine. The contract with Sersa includes a two-year deal for the supply of wire.
Network Rail has awarded Amey five signalling and level crossing renewal contracts totalling £37m in Harrogate, Nottingham, Stalybridge, London and Devon.
USA: The Warm Springs Constructors joint venture has signed a $299m contract to design and build the 8·6 km Warm Springs Extension of San Francisco's BART network, scheduled to open in 2015 as the first stage of an extension into Silicon Valley.