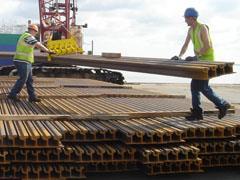 Brazil: Invensys Rail Dimetronic is supplying signalling and a Westrace electronic interlocking for the Novo Hamburgo extension of the Porto Alegre suburban Line 1.
China: CNR has developed a 'high speed' vehicle which can be dispatched to undertake emergency repairs to electrification equipment, bridges and other infrastructure.
MTR Corp has awarded a consortium of Samsung C&T and Hsin Chong a US$590m contract to build 2·2 km of Hong Kong's Shatin to Central Link.
CSR Zhuzhou Electric Locomotive has won its first metro signalling contract, covering Changsa Line 2.
Sinohydro has been awarded a 16·9bn yuan contract to build Shenzhen Metro Line 7.
France: Thales has supplied FieldTrac 6315 AzLM axle counters to RFF for the first time. They have been installed on the 44 km Nice – Breil route along with LockTrac 6171 PIPC electronic interlockings.
Germany: Siemens is to supply DB Netz with six Simis D electronic interlockings, more than 350 axle-counting heads and 300 signals for the Hannover – Uelzen route by 2014.
Malaysia: Thales is to resignal the Kuala Lumpur monorail, with TagMaster supplying RFID readers. OTN systems is to upgrade the monorail's data communications backbone to increase bandwidth by 2·5 Gbps.
Netherlands: ProRail has appointed Strukton Rail to undertake a major remodelling of the 's-Hertogenbosch station area to eliminate bottlenecks by mid-2014.
Poland: PKP PLK and ZTM Warszawa have awarded Mostostal Warszawa a 16m złoty contract to build a new single-platform Ursus Niedwiadek station on the capital's suburban network by 2013.
PKP Energetyka has won a 66m złoty contract to modernise 55 route-km of 3 kV DC overhead electrification on the CMK line, with provision for future conversion to 25 kV 50 Hz.
ZUE has won a 33m złoty three-year contract to undertake maintenance on the 168 track-km Krakow tram network. Budimex is to modernise the Rondo Mogilskie – Plac Centralny route under a 139m złoty contract.
Romania: Bucuresti metro operator Metrorex has awarded a joint venture of Italian firm Astaldi (40%) and three local companies a €164m contract to design and build a 2 km extension of Line 4 from Parc Bazilescu to Straulesti, with two stations.
UK: Network Rail has deployed a fourth ultrasonic rail test train. Converted from an existing coach at a cost of £700000, the UTU1 vehicle also features two ground-penetrating radar units for detecting ballast irregularities, and a laser rail profile scanner.
Network Rail and contractor Hochtief installed the main span of the Hitchin flyover over the East Coast Main Line on July 1. A 120 tonne crane lowered the 30 tonne span into place under a £47m project to grade separate London – Cambridge services from 2014.
A McCann/BAM Rail joint venture has been awarded a £16m contract and McLaughlin & Harvey a £1·3m contract for track relaying on NI Railways' Coleraine – Londonderry route, with services suspended from July 29 to April 2013.
NR has awarded Atkins a £32m contract for resignalling at Wolverhampton and the transfer of control to the West Midlands Signalling centre.
USA: Washington DC's DDOT has selected a Dean-Facchina joint venture to complete electrification, station and depot works for the H Street/Benning Road tram line (p15). Systra and JMT are lead designers.