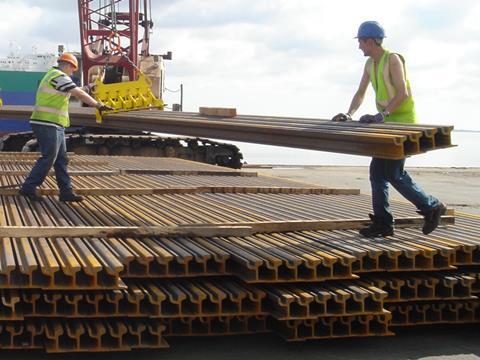 Australia: GHD is to provide environment and engineering consultancy services for the Brisbane - Melbourne Inland Rail project.
Aurecon Jacobs Mott MacDonald JV has been appointed as technical, planning and engagement advisor for the Melbourne Metro Rail Project.
Roy Hill Infrastructure has ordered an Ensco track inspection vehicle with machine vision and laser, ultrasonic and ground penetrating radar systems.
Belarus: BC has awarded AŽD Praha a KC350m contract to supply signalling for the 86 km Zlobin - Gomel line modernisation being financed using a US$80·7m loan from EximBank of China. Some elements are to be made locally under licence by BETZ.
Canada: Ensco is to fit two CN road-rail vehicles with RailScan Lite geometry and joint bar inspection systems.
China: China Railway Construction Corp is to build Nanning Metro Line 3 Phase I under a 5·75bn yuan contract.
Cuba: Ministry of Construction subsidiary La Constructora Caribe is to undertake the first phase of refurbishing Habana Central station in 2015-18 at a cost of 15m pesos.
Germany: DB Netz has awarded two contracts totalling €110m for the modernisation of its GSM-R network to Siemens Convergence Creators/Huawei (northern 40% of the network) and Nokia Networks (60%).
Malaysia: MRT Corp and MMC Gamuda Kvmrt have signed a project delivery partner agreement for the 52·2 km Sungai Buloh - Putrajaya Line in Kuala Lumpur. Arup is reference design consultant for the 13·5 km underground section.
Morocco: A joint venture of Systra, CID and AREP is to provide project management services for Casablanca tram Line 2 and an extension of Line 1.
Philippines: DOTC has awarded an SBI/Commbuilders & Technology JV a 131bn peso six-month contract to maintain railway systems and rolling stock on Manila MRT-3.
Poland: PKP PLK has awarded Infrakol and Track Tec a 23·7m złoty contract to modernise Jelenia Góra station, including track renewals and accessibility, information and security works.
PKP PLK has awarded Eurovia and ETF a 42m złoty contract to upgrade 8 km of the Marciszów - Janowice Wielkie line. CTL Service has a 26m złoty contract for 7 km of track renewals to raise line speeds between Sosnowiec and Tunel, and EL-IN, Armex and Torkol a 36m złoty contract covering 10 km between Tychy and Orzesze Jakowice. Porr (36m złoty) and PUH Rajbud (34m złoty) have won contracts for sections of the Tarnowskie-Góry - Tczew corridor.
A Strabag/KZN Rail consortium has been awarded a 10m złoty contract for tram track renewals in ód. ZUE has won a 52m złoty contract for tram track renewals in Kraków in 2015-18.
PKP PLK has awarded Bombardier a 15m złoty contract to upgrade the Rembertów signalling centre.
Portugal: Infraestruturas de Portugal has awarded ArcelorMittal España a €7·7m contract to supply 10 000 tonnes of 54 E1 rails.
Sweden: Stockholm transport authority SL has awarded EuroMaint a contract to maintain its rail, metro and light rail on-track plant for a further six years, with an option for two more years.
SL has awarded Eltel a six-year contract to maintain the Lidingöbanan and Spårväg City light rail lines from the start of 2016 until the end of 2021.
Turkmenistan: The Ministry of Railway Transport has awarded Huawei a contract to supply GSM-R for the 265 km line from Bereket to Ak Yayla on the Iranian border, which was inaugurated last December.
UK: The Department for Transport and Transport for London have reappointed Jacobs as sponsors' representative for the Crossrail project for up to five years.
USA: Nan Inc has won a $56·1m contract to build Hoopili, University of Hawaii West Oahu and East Kapolei stations on the Honolulu light metro.
California High Speed Rail Authority has appointed a consortium led by Parsons Brinckerhoff and including Network Rail Consulting and LeighFisher as its rail delivery partner. The contract runs to 2022 and is worth up to $700m. STV is to provide environmental and engineering documentation to Chsra, with JL Patterson & Associates as subconsultant.