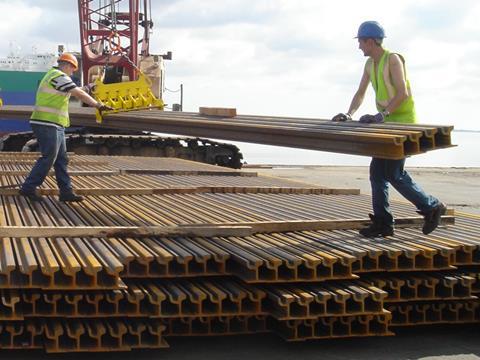 Africa: Vale has awarded Mota-Engil two five-year contracts totalling US$1282m to maintain the 920 km Nacala Corridor in Malawi and Mozambique, assisted by EMEF.
Australia: Western Australia PTA has appointed Jacobs Engineering as technical adviser for the Forrestfield Airport Rail Link, supported by B,G&E and Golder & Associates.
Bulgaria: Infrastructure manager NKZI has awarded the ETS Tekhnolodzhi consortium of Vodstroy 98, Hidrostroy, Balkantel and Boneti a 6m leva contract to automate 20 level crossings.
Kelet submitted the 120m leva best offer for modernisation of the Sofia - Elin Pelin route to permit speeds of 160 km/h.
China: Alstom and Casco have been awarded a €15m contract to upgrade signalling systems and increase capacity on the 1 145 km Golmud - Lhasa route by the end of August 2018.
Vossloh has won a €50m contract to supply rail fastenings for the future Qingdao - Jinan Passenger-Dedicated Line.
France: A joint venture of NGE Génie Civil, Demathieu & Bard Construction, Impresa Pizzarotti, Implenia, GTS, Franki Foundations and Atlas Fondations is to build 3 km and four stations of the 6 km Paris metro Line 11 extension to Rosny-Bois-Perrier for €267m. Razel-Bec and Sefi Intrafor have a €72m contract to build 16 km and one station.
Israel: ISR has selected Abraham Yitzhak Co for a US$12·5m contract to build Mazkeret-Batya station on the line to Beer-Sheva. The station has been designed by Mosesku Architects.
Lithuania: LG has awarded Eurovia a €27·5m contract to double-track the Vilnius freight bypass, with provision for electrification.
Malaysia: Ansaldo STS has been awarded a €37m contract to resignal the 40 km double-track route between Rawang and Salak Selatan, the first of three phases of the Klang Valley Double Track modernisation programme.
MRT Corp has awarded a Colas Rail-led consortium the 693m ringgit SSP Line power supply contract and a Sapura/EVD consortium the telecoms contract valued at 632m ringgit.
Poland: PKP PLK has awarded Thales a 12m złoty contract to maintain ETCS Level 1 on the CMK line for 43 months, including modifications to allow more 200 km/h running.
ZPS Stargard has won contracts totalling 22m złoty to deliver six track maintenance vehicles with hydraulic cranes to PKP PLK and one to SKM Trójmiasto.
Torpol has won a 304m zloty contract to rebuild Kraków Mydlniki station, and a separate 62·7m złoty contract to modernise track, platforms and electrification on the Kutno - Toru route.
PKP PLK has awarded Skanska a 29m złoty contract to modernise 11 km of track around Rzepin.
Romania: FCC Construcción, Convensa and Astaldi have won a €700m contract to upgrade the 41 km Gurasada - Simeria route for 160 km/h running.
Russia: The city of St Petersburg has signed a 17·5bn rouble framework agreement with VTB Bank to finance a new 13 km tram line from Rybatskoye to Kolpino and the modernisation of the 13 km tram Route 36; a 10 km extension towards Peterhof is also proposed.
Spain: ADIF has awarded Canteras Cuadrado a €5·6m contract to supply 276 768 tonnes of ballast for track renewals on the 77 km Mataporquera - Torrelavega route.
A €47·6m contract to resignal the 229·6 km Humanes - Monfragüe section of the 1668 mm gauge route between Madrid, Cáceres and the Portuguese border at Valencia de Alcántara has been awarded by ADIF to a joint venture of Siemens Rail Automation (55%) and Thales España (45%).
ADIF has awarded a further four contracts for the provision of 1435 mm gauge between the French border at Irún and Hernani. Electrification renewals contracts have been awarded to Cobra Instalaciones y Servicios (€6·7m) and to Electrén with Elecnor Infraestructuras (€5·9m). Resignalling contracts were awarded to CAF and Siemens (€16·1m) and to Thales (€16·5m).
Sweden: Storstockholms Lokaltrafik has awarded Comsa a €26m contract for double-tracking the 5·2 km Tibble - Visinge section of the 891 mm gauge Roslagsbanan, rebuilding three stations and upgrading level crossings.
UK: Atkins and CH2M have been awarded the £1·5m Stage 1 On-Networks Systems contract for the proposed Crossrail 2; this covers design work for upgrading infrastructure on each side of the proposed tunnel.
USA: Ansaldo STS has won a $42m contract to resignal 29 km of New York MTA's Long Island Rail Road between Ronkonkoma and Farmingdale. Skanska-Posillico JV has been awarded a $60m contract to double the single-track sections of the route.