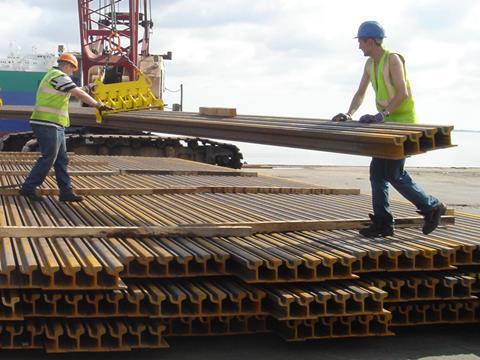 Australia: ARTC has appointed Turner & Townsend and SNC-Lavalin to provide programme management office services for the Inland Rail project.
Canada: Thales is to supply SelTrac CBTC signalling for Toronto's Finch West light rail line and Stage 2 of the O-Train Confederation Line in Ottawa.
Croatia: HŽ Infrastruktura, the Port of Rijeka Authority and SŽ-ŽGP Ljubljana have signed a two-year agreement for modernisation of the freight yard at Rijeka and construction of railway infrastructure at the new Deep Sea Container Terminal. The €32m project is to be 85% co-financed by the EU's Connecting Europe Facility.
Czech Republic: Brno has awarded Metrostav a KC1·4bn contract to build a 900 m extension of tram Route 8 to the Bohunice university campus and hospital.
Hungary: A US$2·08bn contract to modernise the 150 km route from Budapest Soroksár to the Serbian border at Kelebia and install ETCS Level 2 to permit 160 km/h operation has been signed by the CRE consortium of RM International (50%), China Tiejiuju Engineering & Construction and China Railway Electrification Engineering Group. It will come into force once a loan from China's EximBank to finance 85% of the cost is finalised later this year.
Israel: Motorola Solutions has won a contract to supply ISR with up to 3  000 push-to-talk over cellular mobile devices using its WAVE group communication service, and to manage the network for three years with an option to extend the contract to five years. Hot Mobile is the carrier.
Kazakhstan: Integra Construction KZ has commissioned a Bombardier EBILock 950 computer-based interlocking covering 34 turnouts and 48 signals at Zhezkazgan.
Poland: PKP PLK has signed three contracts with a total value of €610m for Torpol and Intercor to upgrade 70 km of rail infrastructure in the Port of Gdańsk and for Budimex to undertake works at the Port of Gdynia where 115 km of track will be modernised and the access route electrified.
ZUE is to repair and maintain tram tracks in Kraków for three years from October under a 68·4m złoty contract.
Pro-Tra Building has signed a 64·6m złoty contract for preparatory works on the first 1·2 km phase of a 7 km extension of the Wrocław tram network to Nowy Dwór.
Spain: ETCS Level 2 has been commissioned on the 163 km Valladolid – León high speed line, as part of a signalling, train control and telecoms upgrading programme being undertaken by Alstom, Bombardier and Indra under a contract awarded by ADIF Alta Velocidad which includes 20 years of maintenance.
Sri Lanka: Kernex Micro Systems (India) Ltd has won a US$8·18m contract to supply and maintain 200 bell and light level crossing protection systems.
UK: Transport for Wales has awarded Balfour Beatty, Alun Griffiths and Siemens Mobility early contractor involvement contracts ahead of procurement for the first stages of the South Wales Metro project. These cover planning and design of the control systems, trackwork, stations and the maintenance depot at Taff's Well.
Network Rail has awared Amaro, AMCO Giffen, Amey, Balfour Beatty, Linbrooke, OSL and Volker Rail a total of 17 framework contracts for minor signalling works with a total estimated value of £215m.
Network Rail has awarded Heliguy an unmanned aircraft framework contract worth up to £2·6m over three years. This covers the supply, maintenance and repair of drones, as well as pilot training.
USA: Iowa Northern Railway has awarded Wabtec a contract to provide integrated I-ETMS PTC, digital video recording and data transfer and analytics capabilities across its fleet by late 2020. The order announced on July 10 is the first won by Wabtec since its merger with GE Transportation.