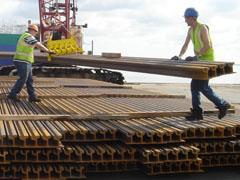 Algeria: A consortium of Colas Rail and KOU.G.C has been awarded a €85m contract to extend Alger metro Line 1 by 4 km from Haï El Badr to El Harrach-Centre. Opening is scheduled for November 2014.
Australia: Western Australia's Public Transport Authority has awarded Ansaldo STS Australia an A$17·9m contract to supply signalling for a 7·5 km extension of Perth's Joondalup Line from Clarkson to a park and ride station in Butler which is scheduled to open at the end of 2014.
Brazil: The Monotrilho Manaus Consortium has awarded Thales a contract to supply SelTrac CBTC for the 20 km driverless monorail under construction in Manaus for opening in two phases from 2014.
Herrenknecht is supplying a 11·46 m diameter earth pressure balance TBM which the Consórcio Linha 4 Sul consortium will use to build a 4·6 km long section of Rio de Janeiro metro Line 4.
Under a US$44m contract, Siemens is to modernise traction power supplies on CPTM commuter lines 7, 10 11 and 12 in São Paulo.
China: MTR Corp has awarded Vinci Construction Grands Projets a €280m contract to build 4 km of tunnel for the Shatin to Central Link.
Czech Republic: AŽD Praha has installed remotely control interlockings on the 109 km Prerov – Ceská Tebová line under a KC140m project 85% funded by the EU.
Infrastructure manager SZDC has awarded contracts for four of the five priority modernisation projects co-funded by the EU (RG 8.12 p 8). OHL ŽS has a KC1·44bn contract to modernise the 12 km Tábor – Sudomice u Tábora line, including double-tracking, two cut-offs and a 430 m tunnel. A Metrostav/Subterra consortium is to modernise the 4·5 km Holešovice – Bubene route in Praha for KC738 million, including a new station at Podbaba. A KC873 modernisation and resignalling project at Beclav will be undertaken by EŽ Praha and AŽD Praha, while Eurovia CS has won a KC872m contract to remodel Ústí nad Orlicí station.
Finland: The Finnish Transport Agency has awarded Pöyry's Urban business group a €5m five-year contract to supervise maintenance of the Western Finland rail network after its existing contract runs out in 2013. There is an option for a further two years. Pöyry has similar contracts for the Eastern and Northern networks.
SRV is to build the Helsinki airport station on the ring line for €70m.
Italy: Italferr has awarded Bombardier a €12·3m contract for signalling works at Roma Casilina.
Netherlands: ProRail has awarded Strukton a €5·9m contract to rebuild Deventer station to support a predicted 30% increase in passengers. A third platform will increase capacity, and the historic station building will be restored.
Pakistan: Wuhan Steel has won a contract to supply 16 000 tonnes of rail to PR.
Poland: PRK Kraków is to replace 76 km of track along with electrification equipment on the Zawiercie – Jaworzno Szczakowa route under a 439m złoty contract; the cost reflects the large number of bridges and junctions, as well as mining subsidence.
PKP PLK awarded PKP Energetyka a contract to electrify the 2·2 km rail connection to Swidnik airport which is scheduled to open this month.
Kral has won a 31·6m złoty contract to modernise 3 km of tram route in ód.
Spain: ADIF has awarded Azvi and Vimac a €13·7m contract to build a 7·5 km dual-gauge branch running from the north of Valladolid to a new rolling stock maintenance complex southeast of the city centre. It will include a junction with the freight bypass running to the east of Valladolid that is being built by the Ministry of Development.
Three contracts worth a total of €33·5m have been awarded by ADIF for the supply of 376000 concrete sleepers for the high speed line between Olmedo and Zamora. Prainsa and Prefabricados Delta are to supply 113000 sleepers for €10m; Prefabricaciones y Contratas and Andulaza de Traviesas 125000 for €11m; and Gic, Flota and Luso Galaica 126000 for €12m.
Turkmenistan: Huawei is to supply a GSM-R network with fixed and mobile terminals, and other data and voice communications systems for the 288 km Chilmammet – Buzhun section of the line being built to link Kazakhstan and Iran.
UK: Morgan Sindall has been awarded a £15·9m contract to build Network Rail's North West regional operating centre. Scheduled for completion by December 2013, the facility at Gorton in Greater Manchester will be one of 14 controlling operations on the national network (RG 8.11 p26).