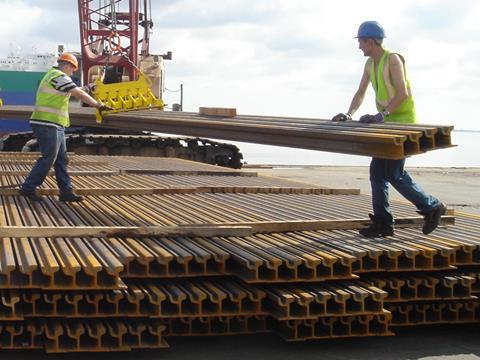 Australia: Thales is to supply communications and control systems for the Sydney Metro project.
TasRail has awarded VEC Civil Engineering a contract for track renewals on the Melba and Western lines, the largest package of the A$119·6m Tasmanian Freight Rail Revitalisation Programme. Tas Heavy Haulage will transport the rails and sleepers to work sites.
Austria: Wiener Linien has awarded SPL Powerlines Austria a contract for electrification of the 4·6 km Line U1 extension from Reumannplatz to Oberlaa, due to open in 2017. The contract also covers the electrification of two sidings and maintenance facilities at Neulaa and Oberlaa.
Bulgaria: Kiril and PD Project 2014 have been awarded contracts to plan a 260m lev modernisation of the 43 km Sofia - Petarch - Dragoman route to be undertaken from 2017.
Croatia: HŽ Infra has selected a consortium of DIV, Dalekovod and Zagreb Montaza to modernise the 38 km Dugo Selo - Krizevci section of the Zagreb - Budapest route, costed at €199m including supervision and land acquisition.
Czech Republic: SŽDC has awarded Skanska a contract to rebuild eská Lípa station 250 m closer to the city centre. The KC1bn project scheduled for completion in December 2016 includes a station building with island platforms and subway, resignalling, 32 electrically-heated turnouts, and rebuilding eight bridges and culverts and 19 level crossings on 33 route-km.
Ecuador: A consortium of Acciona and Odebrecht has been awarded a US$154bn contact to for Phase 2 of the Quito metro. This covers the construction of 221 km of tunnels, 13 stations and rolling stock maintenance facilities. Work is expected to take 36 months.
Egypt: National Authority for Tunnels has signed two contracts for Phase 3 of Cairo metro Line 3 (RG 4.15 p16). An Alstom-Thales consortium is to provide signalling and telecoms, and a consortium of Alstom, Colas Rail, Orascom and Arabco has signed an E&M contract.
Montenegro: Infrastructure manager ZICG has awarded China Civil Engineering Construction Corp a €5·9m EBRD-financed 15-month contract for track and infrastructure renewals on the 9·9 km Kolašin - Kos route and at Kos station.
Norway: Jernbaneverket has awarded Atkins a two-year renewable framework contract to provide technical consultancy services for its ERTMS programme. Eltel's Vete business has been awarded a €9m four-year signalling maintenance framework contract.
Pakistan: PR has taken delivery of a Moog MBL 1200 T bridge inspection vehicle, with a lifting platform mounted on a MAN TGS road-rail vehicle.
Poland: Metro Warszawskie has selected Gülermak to build a 3·5 km western extension of metro Line 2 with three stations for 1·15bn złoty. A 3·1 km eastern extension, also with three stations, is to be built by Astaldi for 1·07bn złoty.
PKP PLK has awarded ZUE a 6·9m złoty contract to replace 10 km of electrification between Smolec and Kty Wrocławskie.
PKP PLK has awarded Kapsch a 1m złoty supplementary contract for the integration of GSM-R equipment it is supplying for the Warszawa - ód line.
Tramwaje lskie has awarded Akbud a 184000 złoty contract to design a planned modernisation of 1 km of track on Piekarska street in Bytom, which will enable the current shuttle service operated by Type N trams dating from 1949-51 to be replaced by modern cars.
Spain: Ingeteam and Istem are to install energy recovery equipment in a substation on Barcelona metro Line 9.
ADIF has awarded Siemens a €93m contract to renew 3 kV DC overhead electrification equipment on a 251 km section of the Madrid - Irún main line between Santa María la Alameda and La Cañada within 24 months.
Sweden: Trafikverket has awarded Ansaldo STS and Cactus a contract to supply a Centralised Traffic Control system for Fagersta station, suitable for upgrading to ETCS Level 2.
Eltel is to supply signalling, telecoms and power supplies for the Roslags-banan in Stockholm.
UK: Devon County Council has awarded Graham Construction a £5·4m contract to design and build a station with two platforms and a footbridge at Marsh Barton in Exeter.
Transport for London has selected a joint venture of Mace and CPC Project Services to act as programme support partner for modernisation of London Underground's Sub-Surface Lines.
USA: Construction contractor Regional Rail Partners has awarded Wabtec a $27m contract to supply PTC for the first phase of Denver's North Metro commuter rail line.
Septa has awarded Ansaldo STS a $53·2m contract to install CBTC on Media-Sharon Hill light rail routes 101 and 102.
Camino Real Regional Mobility Authority has awarded the Paso del Norte Trackworks joint venture of Granite Construction and RailWorks Track Systems a $61m two-year contract to build a 7·7 km streetcar line in El Paso, linking the Mexican border, business district and University of Texas.