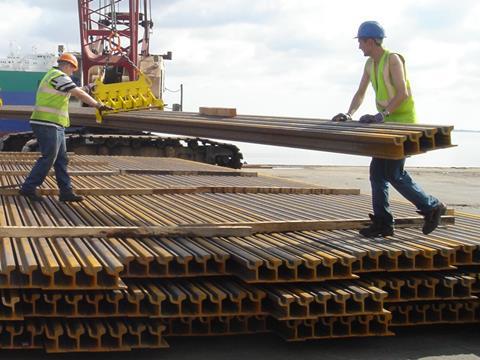 Canada: CP has awarded Ensco Rail a contract to provide track geometry and rail profile inspection systems for a new track evaluation vehicle.
Czech Republic: Kapsch CarrierCom has won a KC294m contract to install GSM-R on the České Budějovice – Plzeň route and connecting lines, a total of 153 km.
Egypt: ENR has awarded Thales a three-year contract funded by the World Bank to modernise signalling and telecoms on the 180 km Asyut – Nagaa Hammadi section of the Cairo – Aswan corridor.
Germany: DB has awarded SPL Powerlines contracts with a total value of €13m for electrification of the VE03 Mindelheim – Stetten and VE04 Memmingen – Leutkirch sections of the München – Zürich route by the end of 2020. The feeder line is to be installed 'unobtrusively' along the overhead electrification, so there would be no need to install new transmission lines.
Italy:  RFI has awarded WEGH Group a €5m contract to supply 298 sets of prestressed turnout bearers over two years.
Poland:  PKP PLK has awarded Schweerbau a 198m złoty contract to upgrade the 27 km double track electrified Drzeńsko – Kostrzyn line.
Gorzów Wielkopolski has selected Trakcja PRKiI and Kauno Tiltai for a 56m złoty contract to modernise 1·2 km of tram track and road infrastructure. ZUE is to rebuild a further 1 km for 18m złoty.
Tramwaje Śląskie has selected a consortium of NDI and Balzola for a 19m złoty contract to double the last 800 m section of single track between Bytom and Katowice.
MZK Toruń has awarded Balzola a 67m złoty contract to build 1·3 track-km of tramway to enable more flexible routing of services.
Singapore:  China State Construction Engineering Corp has won a S$205m contract to build Cantonment station on the Circle Line 6 project. Opening of the three-level underground station is scheduled for 2025. Alstom is to supply Urbalis CBTC signalling for the four-station extension.
TEE International subsidiary PBT Engineering has won two contracts worth S$56·5m to install noise barriers on elevated sections of the metro.
UK:  The Carillion Powerlines joint venture is to begin work shortly under a £260m contract to electrify at 25 kV 50 Hz the route from Bedford to Corby. Under a second contract, Carillion is to upgrade existing track and infrastructure on the route from London to Corby. Carillion expects this work to generate revenue of £62m.
Network Rail has announced that its alliance with Amey, BAM Nuttall and Arup has been awarded a contract to design infrastructure options including civils, track and railway system enhancements and electrification for the Trans-Pennine route west of Leeds; formal announcement was delayed by the general election.
Network Rail has awarded BAM Nuttall a £4·4m contract to demolish an arch bridge and undertake embankment works, road re-alignment and drainage diversions at Cow Lane in Reading.
USA:  Hensel Phelps has awarded Granite Construction a $28m design-build subcontract for Sound Transit's Operations & Maintenance Facility East project in Bellevue.