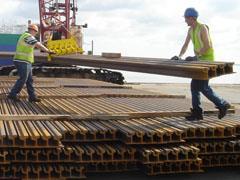 Algeria: The Méditerrail consortium of Alstom and Etrhb handed over the initial 8·7 km of the 23 km Alger tram line to Entreprise du Métro d'Alger for commissioning in December.
China: OTN Systems has won contracts to supply its OTN-X3M 10 Gbit/sec optic fibre telecommunications backbone equipment for Beijing metro lines 8 and 10 and Ningbo metro Line 1.
Denmark: On January 7 Ansaldo STS signed the €700m turnkey contract to build the 16 km Cityringen metro line in København by 2018 (RG 1.11 p16).
Banedanmark has selected a consortium led by Atkins and including EKJ Consulting Engineers, Ingenieurbüro Vössing and Sweco Infrastructure to design the 60 km duplicate route from København to Ringsted (RG 1.09 p10). On opening in 2018, trains will initially run at 200 km/h, but higher speeds are planned.
Dominican Republic: Transport authority Opret has awarded Siemens a €72m contract to provide electrification and automation equipment including ZUB222c ATC, Sicas ECC interlockings and Vicos OC100 operations control, for Santo Domingo's 17·5 km metro Line 2. The contract also includes three years' maintenance.
Ecuador: Ripconciv has been awarded a US$24m contract to rebuild the Riobamba - Ambato section of the Durán - Quito route (RG 9.10 p56). Edeconsa and Ingeral have been awarded a US$182m contract covering Riobamba - Palmira.
Finland: Transport agency Liikennevirasto has awarded Pöyry a €4m contract to manage tendering and supervision of maintenance of 1600 km of the network in northern Finland for a further five years.
Germany: Robel is to supply a rail grinding machine for the metre-gauge Freiburg tramway.
India: Larsen & Toubro has won turnkey contracts totalling Rs11bn to build dedicated rail links to various power stations.
A joint venture of ITD Cementation India and Italian-Thai Development has been awarded a Rs2·28bn contract by Delhi Metro Rail Corp to build road and metro viaducts for phase I of Jaipur metro and the Ajpur Road BRTS corridor. DMRC designed and is now managing the Jaipur metro project.
Larsen & Toubro is building a Rs1·98bn depot and control centre for the Chennai metro being undertaken by CMRL. Construction began on December 1 2010 and will take 36 months.
Latvia: On January 5 Bombardier announced a €9·3m contract to supply EBILock 950 computer-based interlockings, EBIScreen 2000 control room and EBIGate 2000 level crossing equipment for the 100 km Skriveri - Krustpils double-tracking being undertaken by a consortium led by Skonto Buve.
Netherlands: ProRail has awarded Struktron 'output-driven' contracts to maintain 180 track-km in the Rijn & Gouwe region for five years from April 1, and 475 km track-km in the Drenthe region which combines the Overijssel and Drenthe sub-regions from June and December.
Heijmans has won a €26m contract to build a new bridge over the River Dieze and undertake grade separation at 's Hertogenbosch.
Romania: CFR SA has awarded Pöyry's Urban & Mobility business a €6·9m five-year extension to its contract for design work on the rehabilitation of the 184 km Hungarian border - Curtici - Simeria route.
Spain: The Ministry of Development has awarded a joint venture of Azvi and Tecsa a €561m contract for track and electrification works to double the 264 km Utera - Las Cabezas de San Juan section of the Sevilla - Cádiz route. Work will include rebuilding Las Cabezas de San Juan station, making provision for future conversion to 1435 mm gauge and 25 kV AC electrification.
Sweden: Trafikverket has awarded Finland's VR Track a €60m contract to maintain the 358 route-km Sundsvall - Storlien Mittbanan for five years from June 2011, with an optional two-year extension.
UK: On December 10 Balfour Beatty Rail announced a five-year contract for track renewal works on London Underground worth £110m, with an option for a further two years.
Network Rail has awarded Atkins a £13·5m contract for the Stourbridge - Hartlebury area resignalling.
A joint venture of Balfour Beatty, Alpine BeMo Tunnelling, Morgan Sindall and Vinci Construction has been awarded a £235m contract to build the White­chapel and Liverpool Street station tunnels as part of London's Crossrail project.