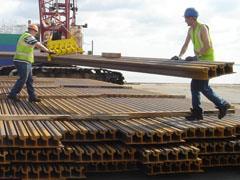 Australia: Transport for NSW has awarded Downer EDI and Robson Civil Projects a A$90m contract to undertake infrastructure works for the Gosford Passing Loops Project, one of four packages under the Northern Sydney Freight Corridor programme.
Germany: DB Netz has awarded Jäger Bau a €3·4m contract to modernise the 673 m Effolderbacher tunnel on the Gießen – Gelnhausen line, improving drainage and escape routes.
India: Northeast Frontier Railway has awarded a Hindustan Construction Co/Coastal Projects JV a RS2·3bn contract to build a tunnel near Kambiron Road as part of the Jiribam – Tupur project.
South Korea: Rail.One is to supply 530000 twin-block concrete sleepers for the 222 km Honam high speed line from Osong to Mokpo. The sleepers will be produced at two plants operated jointly by Rail.One and Taemyung Industrial Co.
Latvia: A Bombardier-Belam consortium is to install Interflo 200 signalling and EBILock 950 computer-based interlockings on LDZ's Zasulauks – Bolderja line under a contract valued at 9·5m lats.
Poland: PKP PLK has awarded a consortium of ZUE and PNiUIK Kraków a 602m złoty contract to modernise the 125 km Koluszki – Czstochowa line, renewing track, signalling, platforms and level crossings to eliminate speed restrictions which prevent continuous 120 km/h passenger and 100 km/h freight operation.
PKP PLK has awarded PRK Kraków a 51·6 m złoty contract to modernise Tunel station, raising speeds to 100 km/h by eliminating a 40 km/h speed restriction.
A NDI/Balzola consortium is to renew tram tracks in Chorzów for 29m złoty and Ruda lska for 20m złoty as part of the Tramwaje lskie upgrading programme.
PKP PLK has awarded PBS Transkol a 24m złoty contract to moderise the single-track ód Widzew – Zgierz freight line for 100 km/h passenger operations and build three stations as part of the KA suburban project.
A consortium of Torpol, PUT Intercor and Polimex-Mostostal has signed a 1·6bn złoty contract for track renewals and quadrupling of the 66·5 km Warszawa Rembertów – Zielonka – Tuszcz (Sadowne) section of corridor E75.
Romania: SC Mari-Vila has won a 25·7m lei contract to modernise 11 km of tramway in Craiova, and SCT Bucuresti a 9·6m lei contract covering 1·6 km.
Spain: ADIF has awarded Thales España a 24-month contract worth €42·4m to maintain signalling and train control equipment on the Madrid – Sevilla and Córdoba – Málaga high speed lines, totalling 647 km. This includes maintenance of CTC, LZB and ASFA equipment, as well ETCS Level 1 and 2.
UK: The Signalling Solutions joint venture of Alstom and Balfour Beatty Rail has been awarded a €27m contract to undertake signalling and power supply work on the Great Western Main Line in preparation for electrification and the overlay of ETCS.
Under a €15m contract SSL is to resignal the 29 km Arundel – Horsham line using Alstom's Smartlock 400 computer-based interlocking, and a €0·9m contract covers design work for planned large-scale signalling renewal between Scunthorpe and Cleethorpes. Volker Fitzpatrick has awarded SSL a £9m contract for signalling works as part of the Gatwick Airport station upgrade.
Network Rail has awarded the ABC Electrification partnership of Alstom, Babcock and Costain a £48m three-year contract for the 200 km third phase of the West Coast Main Line power upgrade. Fault level current will be raised to 12 kA, with autotransformers, containerised substations and overhead feeder lines installed.
Network Rail has awarded Invensys Rail a £57·8m contract for the Great Northern Great Eastern resignalling covering 138 km of the Doncaster – Lincoln – Peterborough line which is being upgraded as a freight route to free paths on the East Coast Main Line.
Network Rail has awarded Balfour Beatty Rail the 'west outer' contract to upgrade 19 km of the Great Western Main Line between West Drayton and Maidenhead for the Crossrail project.