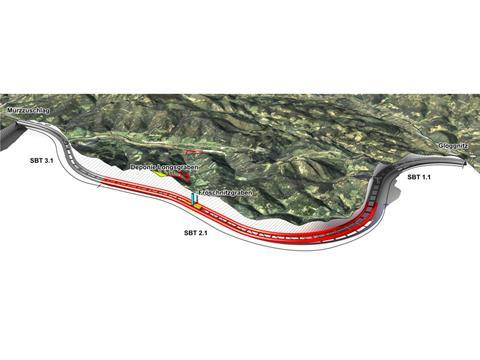 Australia: Aurizon has awarded Leighton Contractors an A$100m contract to build a train maintenance and stabling facility at Hexham in the Hunter Valley by March 2015.
Austria: ÖBB has awarded the ATF consortium of Implenia and Swietelsky the €623m Lot 2.1 contract to build the 13 km central section of the 27·3 km Semmering base tunnel. Work is expected to take 10 years.
Wiener Linien has awarded Porr three contracts totalling €68m for signalling, station and related works on the metro Line U1 extension.
Brazil: Build-operate concessionaire CCR has awarded Egis a €12m systems integration contract for construction of the Salvador metro. Egis will work with local subcontractor MCA on project management.
China: MTR Corp has awarded Alstom a €41m contract to install 22 km of 25 kV electrified track including 6 km in depots and sidings for the Shatin – Central Link in Hong Kong.
Czech Republic: SŽDC has awarded a consortium of Subterra and Metrostav a KC1·0bn contract for modernisation of eský Tšín station by 2016, including works to increase the maximum line speed to 150 km/h.
France: Tata Steel has won contract to supply more than 200 000 tonnes of rail to SNCF over two years.
Germany: DB has agreed five rail supply framework contracts with ArcelorMittal (a total of 1995 km) and Voestalpine (1125 km).
Siemens is to supply interlockings for the rail network at the port of Bremen.
India: Ircon has awarded Hindustan Construction Co a Rs4·43bn contract to build a tunnel and two bridges for the link between the isolated Kashmir line and the wider network.
Italy: RFI has awarded an Alstom-led consortium a €120m contract for signalling renewals and the provision of Iconis control technology at Roma.
Netherlands: ProRail has awarded Strukton and VenhoevenCS a design and build contract for the rebuilding of Alkmaar station.
Norway: Sporveien Oslo has awarded Siemens Rail Automation a contract to supply signalling and train control equipment for the new Avløs metro depot. Siemens will supply its Trackguard Westrace and axle-counters, to be controlled from Tøyen using Controlguide Westcad.
Hordaland council has awarded Rhomberg Sersa Rail Group a €19m contract to build 7 km of double track and 6 km of depot tracks for the Bergen Bybanen airport extension between April 2014 and mid-2016. Around 90% will be ballasted track and 10% slab.
Poland: Fijakowski has won a 43·5m złoty contract 59% funded by the EU to modernise the main building at Toru Gówny station, which PKP SA has transferred to the city council. Works should be completed by May 2015.
Russia: Evraz has begun large-scale production of R65 DT-350 head-hardened rail for RZD.
Sweden: VR Track has been awarded a €76m contract to maintain the Nässjö – Arlöv section of the Stockholm – Malmö main line for five years from October.
Nexans is to be the main supplier of cables to Trafikverket under a two-year framework contract worth around €16m.
Thailand: SRT has awarded Italian Thai Development a 348m baht contract for track upgrading between Ban Tungpo Junction and Khiri Rat Nikhom.
Turkey: TCDD has selected a Kolin Gülermak naat joint venture to double-track the Konya – Karaman line under a contract valued at €146m.
USA: Ansaldo STS is to supply interlockings and control equipment worth $20·5m for Long Island Rail Road's 70 km Speonk – Montauk line.
ABB is to install a second Enviline energy storage and recovery system on Septa's Market – Frankford line. This will use both supercapacitors and batteries to store regenerated power, which can be fed back into the supply grid.