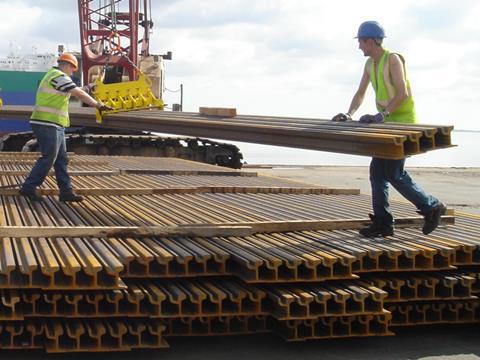 China: Hong Kong's MTR Corp has awarded Leighton Asia and China State Construction Engineering an A$929m contract to build Exhibition station and 300 m of cut-and-cover tunnel for the Shatin – Central Link.
Croatia: Vossloh Rail Services has signed a €4·5m framework agreement to provide HŽ Infrastruktura with rail measurement, testing, data analysis and machining services.
Czech Republic: SŽDC has awarded Kapsch CarrierCom a €14·7m contract to install GSM-R communications on the 185 km Beroun – Plze – Cheb – German border route by late 2016.
Germany: Düsseldorf light rail operator Rheinbahn has commissioned Siemens to upgrade signalling on the 11 km city centre Stadtbahn tunnel by late 2018.
India: Project manager Delhi Metro Rail Corp has awarded Alstom signalling and telecoms (€34m) and 750 V DC third-rail electrification (€33m) contracts for the Kochi metro.
Italy: RFI has reached financial close with the Cociv consortium led by Salini Impreglia for the €607m third phase of the 57 km Genova – Alessandria Terzo Valico line. The design-and-build contractor says construction is expected to begin by the end of June.
Poland: PKP PLK has awarded Pol-Aqua, Dragados, Vias Y Construcciones and Electren a 100m złoty two-year contract to modernise track, signalling and two stations at Radom.
SKM Warszawa has awarded Trakcja PRKiI a 44·9m złoty 36-month contract to modernise its Warszawa Szczliwice depot, replacing track and electrification, modernising the shed and building a washing plant and offices.
Pomorska Kolej Metropolitalna has awarded Budimex and Ferrovial Agroman a contract to modernise Gdask Osowa station.
Russia: RZD has awarded Siemens a contract to maintain control equipment which it is supplying for the 5000 wagon/day Luzhskaya hump yard near the port of Ust-Luga which is scheduled to go into full operation this year.
Singapore: Following trials, Land Transport Authority has awarded CKT Thomas a contract to install 3·5 km of noise barriers at nine locations. A second phase covering a further 9 km is planned.
Sweden: Trafikverket has awarded Strukton Rail a €50m contract to maintain 360 track-km in southern Sweden including lines from Malmö to Simrishamn and Ystad and freight lines in Skåne. It runs for five years from September 1 2015, with an option for a further two years.
UK: Balfour Beatty's Power Systems business is to install over 40 km of 11 kV and 22 kV electricity and optic fibre cables on the London Underground network, and decommission older high voltage cables.
Network Rail has awarded Siemens a £16m contract to resignal the Haymarket – Dalmeny line under the Edinburgh – Glasgow Improvement Programme.
Simoco Group is to upgrade London Tramlink's radio communications network, installing its Xfin technology to enable radio frequencies to operate over an optic fibre network to improve communication between the control centre and trams.
USA: Sound Transit has selected Hill International to provide project management services for the 2·9 km E360 section of the East Link light rail project in Seattle. The initial $1m contract covers one year of pre-construction services, with a $21m option for a further four years during the construction phase.
Vietnam: Management Authority for Urban Railways has appointed Hoa Binh Construction & Real Estate Corp as lead contractor for architectural, mechanical and electrical work at Tham Luong station on Ho Chi Minh City metro Line 2. The contract is worth 173bn dong.