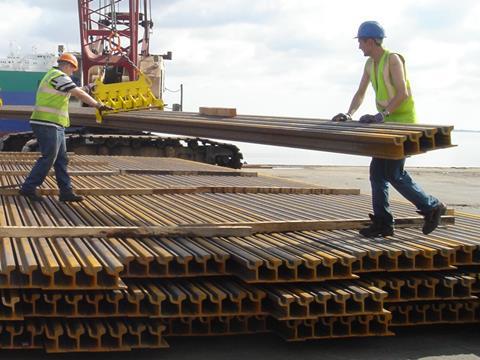 Algeria: A consortium of Colas Rail and Kou G C is to build two extensions of the Alger metro under contracts worth €117m and €51m.
Australia: Queensland has awarded Golding Contractors a civil works contract for the A$163m double-tracking of the 8·2 km Coomera – Helensvale section of the Gold Coast – Brisbane line to increase capacity ahead of the 2018 Commonwealth Games.
Bangladesh: Korean firm LSIS has signed a 2·24bn taka contract to modernise the signalling at 11 stations between Chittagong and Chinki Astana.
China: A consortium of China Railway Construction Corp and Sinohydro is to carry out civil works for Phase 2 of Qingdao metro Line 1.
France: Parsons has been selected as designer and project manager for the automation of the Marseille metro, supported by Assystem and TPF Ingenierie.
Macedonia: A consortium of Idom, ADT – Omega and Željezniko projektno društvo has won a €3·4m, 22-month contract to prepare detailed design and tender documentation for the planned 23 km Kriva Palanka – Bulgarian border section of corridor VIII.
Myanmar: Frauscher is to supply Hitachi with ACS2000 axle counters for a level crossing upgrade programme.
Peru: Ansaldo STS has awarded Siemens a contract to electrify Lima metro Line 2 and the first phase of Line 4.
Philippines: A joint venture of Busan Transportation, Edison Development & Construction, Tramat Mercantile, and Castan has signed a three-year, 3·81bn peso contract to modernise and maintain 43 cars and signalling on Manila light rail Line 3.
Poland: PKP PLK has awarded a consortium led by Budimex and including Ferrovial Agroman a 258m złoty contract to build a new curve between Kraków's Zabocie and Krzemionki stations to reduce journey times to Zakopane by up to 15 min. The two stations are also to be rebuilt and existing lines modernised.
UK: CRRC Zhuzhou subsidiary Delkor Rail is to supply rail fasteners to London Underground under a US$1bn contract.
USA: California High Speed Rail Authority has selected a $347·6m bid from the California Rail Builders special purpose vehicle of Ferrovial Agroman US Corp, Euroestudios and Othon for the 35 km Construction Package 4 design-build contract.
Los Angeles County MTA has awarded Ansaldo STS a $31·5m contract to supply signalling and train control equipment for the first phase of the Purple Line extension to Santa Monica.