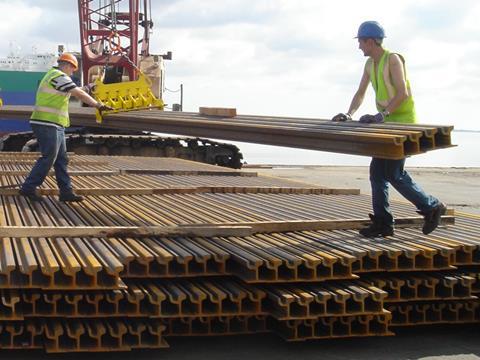 Bulgaria: NKZI has awarded contracts for construction of bridges over the Septemvri - Plovdiv line to Strabag (7·8m leva) Gigastroy (3·2m leva) and Porr (4·1m leva).
Canada: London Trackwork is to supply trackwork including turnouts and crossovers for the first phase of Edmonton's Valley Line light rail project.
G3 Global has appointed Peter Kiewit Infrastructure to design and build a high capacity grain export terminal at the Port of Vancouver, with a rail loop able to hold three 134-wagon trains which will be unloaded while moving.
Chile: A joint venture led by ETF and including Colas Rail has won a €35m seven-year preventive maintenance contract covering lines 1, 2, 4, 4A and 5 of the Santiago metro.
China: China Railway Construction Corp and China Railway 14th Bureau Group have won a 6·3bn yuan contract to build the Guangzhou Nan - Baiyun Airport section of the Guangzhou-Foshan Circle Line, which forms part of the Pearl River Delta Intercity Railway.
France: A consortium of Alstom and Colas Rail has won an €11m contract to provide power supplies for Nice tram Line 2, which will use Alstom's SRS static charging technology.
Systra is managing the construction of 10 conduits in a 5 km section of the Tarascon - Arles route, which will allow water overtopping River Rhône flood defences to disperse.
Holight has won a €1·2m contract to install LED lighting on the Paris metro.
India: IR has commissioned TPWS train protection on the 68 km Basin Bridge - Arakkonam line running west from Chennai, using ETCS Level 1 equipment supplied by Thales.
Italy: General contractor Cociv has awarded the Saturno Consortium a contract to supply signalling and power systems for the Terzo Valico line under construction between Milano and Genova. Ansaldo STS's share is worth €174·6m.
Peru: Siemens is to upgrade power supplies on Lima metro Line 1.
Poland: As part of a CEF-funded upgrading of the Warszawa - Poznan E20 corridor, PKP PLK has selected Torpol as best bidder for a 1bn złoty contract to modernise the 125 km Barogi - Swarzdz section. A consortium of ZUE, Budimex and Strabag is to modernise the 59 km from Barogi to ychlin under a 689m złoty package which includes reconstruction of the important junction at Kutno.
PKP PLK has selected Intercor to modernise the 35 km Sadowne - Czyew section of corridor E75 for 160 km/h operation at a cost of 576m złoty.
ZUE has submitted the best offer of 214m złoty to rehabilitate the single-track Wyczerpy - Chorzew Siemkowice line.
PRB TOR is to modernise the 50 km Radzice - Radom section of PLK's Koluszki - Radom line for 42m zloty.
ZUE is to lay 800 m of double-track tramway in Elblg for 10·3m złoty, to enable route reconfiguration.
Senegal: RATP and SNCF have signed a framework agreement to participate in the operation and maintenance of the electrified railway under construction between Dakar and the new Blaise Diagne airport (RG 1.17 p8). The French operators are also to assist with a training centre.
Serbia: Infra ŽS signed a contract with China Civil Engineering Construction Corp on January 5 for reconstruction of 7·5 km of the Beograd - Niš line through Rakovica and Resnik. The work is being funded through a €95m EBRD loan which will also fund modernisation of the 75·9 km Jajinci - Mala Krsna line.
Spain: ADIF has awarded a series of nine-month contracts for the maintenance of 1668 mm gauge infrastructure, while tendering is undertaken for multi-year agreeents covering the entire conventional network.
Thales España has been awarded an €89m contract to maintain signalling, fixed telecommunications and CTC equipment on the Ourense - Santiago de Compostela route for 40 months.
Taiwan: China Steel Corp has awarded Thales a 4½ year contract to supply signalling for Kaohsiung light rail phases two and three.
UK: Network Rail has awarded Carillion Powerlines a £49m contract for electrification of the 74 track-km Holytown - Shotts - Midcalder line, as part of a £160m project to provide a fourth electrified route between Edinburgh and Glasgow.
Uruguay: CFU has taken delivery of a Plasser & Theurer PBR 400 ballast regulator.
USA: LK Comstock has won a $223·3m contract for enabling and installation works on New York's Queens Boulevard subway resignalling project, where Siemens and Thales are supplying CBTC and RailWorks is to undertake track and civil engineering works.
Vietnam: WEGH Group has won its first order from DSVN, covering the supply of 150 Type PL TD96/2 level crossing machines equipment to upgrade 75 crossings on the Hanoi - Ho Chi Minh City main line.