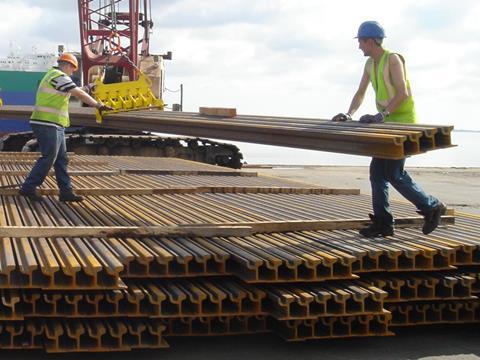 Algeria: Anesrif has awarded the Estel joint venture of Siemens and SNTF a contract to supply signalling for the 90 km Beni Mansour – Bejaia double-tracking. Siemens' €95m share includes Trainguard 100 ETCS Level 1, Vicos operations control, Simis W interlockings, GSM-R and RailCom Manager communications management.
Australia: Laing O'Rourke Construction has won a A$73m contract to design and build the Wickham rail, bus and tram interchange for the Newcastle light rail project (RG 6.14 p15).
Brazil: VLI has taken delivery of two Plasser & Theurer 09-16 tampers and two SSP203F ballast profilers, which are to be deployed on the metre gauge Centro-Atlantica network. An 09-3X tamper and an SSP203 regulator have been ordered to undertake track maintenance on the North-South Railway.
Greece: Thales has announced a contract to supply signalling and telecoms for a 73 km section of the Athens – Patras route to permit speeds up to 200 km/h.
Israel: Y Lehrer (Engineering) Ltd has won a US$4·43m contract to upgrade Binyamina and Haifa-Hof HaKarmel stations.
Mexico: Alstom and OHL subsidiary CPVM are to supply railway systems for Line 3 of the Guadalajara light rail network under a €380m contract. Alstom is to supply 18 Metropolis trainsets, as well as signalling and train control based on its Urbalis 400 CBTC.
A consortium led by Caabsa Constructora and including Prefabricados y Transportes, Cargo Crane, Grupo Corporativo Amodher, Omega Construcciones Industriales and González Soto y Asociados is to build the third section of the Mexico City – Toluca suburban line under a 10·4bn peso contract.
Netherlands: Strukton has won a €14·4m contract to rebuild Hardewijk station.
Poland: PKP PLK has awarded Multiconsult a 3·3m złoty contract to undertake a feasibility study for electrification of the 99 km Ek – Korsze route by 2020.
PKP SA has awarded Murkrak and Murdza a 5m złoty contract to rebuild Wieliczka station, retaining heritage features while improving access. SKB Development has a 6·7m złoty contract to modernise Dbica station.
Portugal: Refer has awarded Opway Engenharia SA a €1·7m nine-month contract to electrify 88 km of single track serving the port of Aveiro.
Qatar: A consortium of Lotte Engineering & Construction, Rizzani de Eccher and Redco Construction has won a US$609m contract to build 6·7 km of the Doha metro Red Line.
Spain: ADIF has awarded a joint venture of Amurrio Ferrocarril y Equipos, Duro Felguera Rail, Jez Sistemas Ferroviarios and Talleres Alegría an €18·2m contract to supply turnouts for the high speed line between Monforte del Cid and Murcia, as well as the junction at La Encina. Work is due to take 12 months to complete.
ADIF has awarded a joint venture of Siemens Rail Automation and Thales España GRP a €17·8m contract to supply and maintain signalling and telecommunications for double-tracking the 11·5 km of high speed line between Río Duero and Valladolid. The project is being undertaken in preparation for the extension of the high speed network from Valladolid to Burgos and León.
Under the Mediterranean Corridor project, ADIF has awarded Elecnor Infraestructuras a €15·8m contract to install OHLE for 1435 mm gauge trains between Vila-seca and the connection with the Madrid – Barcelona high speed line, and dual-voltage OHLE from Vila-seca to Vandellós and the connection with the Reus – Tarragona route. In total, the contract covers 45·6 km of double track and 16·3 km of spurs to the high speed line.
Martín Casillas and Comsa have been awarded a €12·6m contract by ADIF to remodel the track layout and modernise Granada station in preparation for the arrival of high speed services.
Contratas Vilor and Levantina Ingeniería y Construcción have been awarded a €6·5 contract to build a station at Elche on the high speed line between Monforte del Cid and Murcia.
ADIF has awarded Contratas y Servicios Ferroviarios a €5·3m contract to undertake track renewals on the 76·7 km of single track between Mataporquera and Torrelavega on the Palencia – Santander route, including the replacement of 14192 sleepers and the laying of 54 kg/m rail.
Sweden: WSP has been commissioned to define the requirements and draft the procurement documentation for a design and build contract to provide ETCS Level 2 on the Malmbanan.
USA: California High Speed Rail Authority has selected a consortium of Dragados, Flatiron and Shimmick as preferred bidder for the $1·2bn design-build Construction Package 2-3 covering 96 route-km of high speed line in the Central Valley from Fresno to a point 1·6 km north of the Tulare-Kern County line.