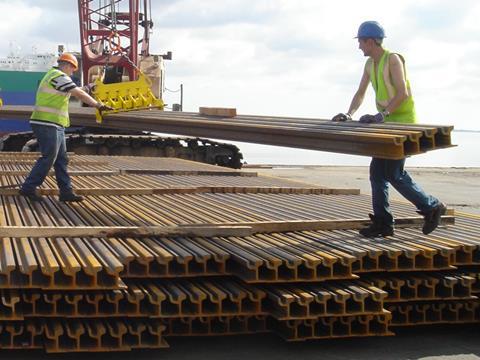 Argentina: The government has awarded a joint venture of Lemiro Pablo Pietrobini and Savabisa a 2386m pesos contract to restore to operating condition route C15 of the Belgrano network from Perico to Pocitos on the Bolivian border.
Belgium: The TramContractors consortium of BAM-PGGM and Cofely Fabricom has signed PPP contracts worth €200m for the construction of the Noorderlijn tram project in Antwerpen and the provision of 28 years of maintenance.
China: Sapphire Corp subsidiary Ranken Infrastructure is to build a 2·3 km section of Guiyang metro Line 2 Phase 1 under a 428m yuan contract.
A consortium led by China Railway Engineering Corp and including Ranken is to build a section of Qingdao metro Line 1 with two stations.
Denmark: Fixed link holding company Sund & Bælt has awarded Eltel a €10m three-year contract for track, signalling and electrification maintenance on the Storebælt link and on the line between København and the Øresund Bridge.
Egypt: Alstom has won a €15m contract to supply signalling for a new depot on Cairo metro Line 1.
Estonia: Merko Ehitus Eesti and KMG Inseneriehituse are to extend the Tallinn tramway to the airport.
France: The Setec TPI joint venture is to provide project management for civil works on the 21 km Pont de Sèvres – Saint-Denis Pleyel section of Line 15 of the Grand Paris Express network. Architecture Studio is to design Nanterre La Folie station.
India: Dedicated Freight Corridor Corp of India has awarded a consortium of Hitachi, Mitsui & Co, Hitachi India and a local partner the Rs18bn Package 5 contract to supply signalling and telecoms for the 915 km Rewari –Vadodara section of the Western DFC. A consortium of Hitachi, Mitsui and Hitachi India has the Rs6·1bn Package 5a contract to supply automatic train control systems on the 1337 km from Rewari to Jawaharlal Nehru Port.
Netherlands: ProRail has awarded and BAM Infra a €47·8m contract to lay extra tracks between Utrecht Leidsche Rijn and Utrecht Centraal.
Norway: Jernbaneverket has awarded Condotte a NKr2bn Follo Line contract covering track and structures between Oslo Sentral and Ekeberg. Baneservice has won a NKr220m contract to remodel the existing Østfold Line and approaches to Oslo Sentral. Within an existing framework agreement, Thales has signed a NKr250m contract to provide the signalling at Ski.
Poland: PKP PLK has directly awarded Thales a contract to maintain ETCS Level 1 equipment it supplied for the CMK line from January 2016 to December 2019.
Serbia: On December 10 RZD International signed an agreement with Infrastruktura Zeleznice Srbije for modernisation of a 78 km section of the Beograd – Bar line between Resnik and Valjevo. Expected to cost US$80m, the project will be funded from a US$800m Russian loan agreed in 2013.
Spain: ADIF has awarded an Alstom/Bombardier JV a contract to supply (€54m) and maintain for 20 years (€34m) the first ETCS Level 2 signalling on the Barcelona suburban network, covering the 56 km between L'Hospitalet de Llobregat and Mataró.
UK: Network Rail has awarded Atkins, Laing O'Rourke and VolkerRail a design and construction contract for East West Rail Phase 2, covering the reopening of a disused line between Bletchley and Bicester and related works.
HS2 Ltd has announced the contractors shortlisted to carry out enabling works on Phase 1 of the high speed project. Contracts worth £900m are due to be awarded later in the year.
USA: Chicago Transit Authority has awarded Kiewit Infrastructure a $13m contract for track renewals on the western end of Green Line.
Metra and prime contractor Parsons have awarded Wabtec contracts worth $45m to provide PTC including I-ETMS, back office systems and related services for the Northeast Illinois Regional Commuter Railroad.