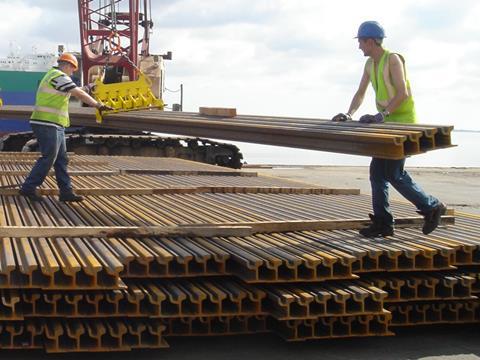 Australia: The NSW government has awarded Network Rail Consulting and Go-Ahead the A$16m System Integrator contract within its Digital Systems programme which includes rolling out ETCS Level 2, ATO and a traffic management system.
ARTC has awarded Golder Associates a A$23m contract for geotechnical studies on the Gowrie – Kagaru section of Inland Rail (RG 11.18 p7).
The NSW government has awarded the A$1·38bn Sydney Metro City & Southwest tunnel fit-out contract to the Systems Connect joint venture of CPB Contractors and UGL.
China: Vossloh has won a €20m contract to supply rail fastenings for the future Weifang – Laixi high speed line.
Estonia: Leonhard Weiss has awarded Pandrol a contract to supply 430 000 Fastclip FE rail fastenings for upgrading the 65 km Tapa – Narva line. The contractor estimates that using Fastclip FE with the CD400 Clip Driver reduces installation time by 30% compared to older technology.
India: Mumbai Metro Rail Corp has awarded Alstom a €100m contract to supply Urbalis 400 CBTC for unattended operation on Line 3, with platform screen doors and Scada.
Italy: As a member of the Cepav Due consortium, Ansaldo STS has secured a €98m contract to supply ETCS Level 2, IXL Multistation and the TMS-HS traffic management tool for the 48 km Brescia Est – Verona high speed route.
RFI has awarded British Steel two contracts to supply 68 000 tonnes of standard rail and 18 000 tonnes of premium wear-resistant SF350 heat-treated rail.
Nigeria: As part of its plans to exit the transport sector, GE has handed over to Transnet the leadership of the consortium including SinoHydro and APM Terminals which was awarded a deal to upgrade Nigeria's 1 067 mm gauge network last April.
Switzerland: SBB has awarded the Wiki consortium which includes Pöyry a contract for track and bridge maintenance at Zürich Wipkingen.
Harsco Rail delivered a final batch of six maintenance and rescue vehicles to SBB at the end of November for use in the Gotthard and Ceneri base tunnels. The SFr94m order for 30 vehicles was placed in 2013.
Sweden: Trafikverket has awarded Nexans a €65m contract to supply optic fibre cables, while Emtelle Technologies is to supply microducts.
Turkey: TCDD has awarded a contract for electrification and resignalling of the 81 km Cerkezkoy – Halkalı route to Elsitel Elektromekanik Insaat Proje, which submitted a bid of TL31·3m, the lowest of five received.
UK: In its draft business plan published on December 11, Transport for London said that it had discontinued the current procurement process for resignalling London Underground's Piccadilly Line, as capital funding beyond 2020 was not confirmed and it had 'decided to work with our suppliers to review the programme so that it delivers in the most efficient way'.
USA: The American Short Line & Regional Railroad Association has entered into an agreement for Wabtec Railway Electronics to provide PTC to its members using a hosted multi-tenant back office system. This is designed to offer complete PTC back-office functionality within a package which is cost-effective for short line operators.