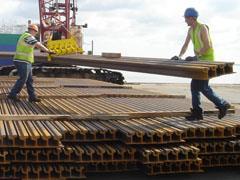 Australia: A Leighton/Downer JV has been awarded the A$43m West Werribee Junction design and build contract, the final package of works for the Melbourne Regional Rail Link.
China: Siemens is to supply Trainguard MT automatic train control and protection for the 26 km Suzhou metro Line 2, 25 km Qingdao Line 3 and 37 km Chongqing Line 6 Phase 2, which are scheduled to open in 2014.
CSR Zhuzhou has been awarded its first order to supply signalling equipment, covering Changsha metro Line 2. The company has been developing the product with Invensys since 2009.
Germany: Funkwerk IT is to supply an Alister electronic interlocking to replace relay systems at Hamburger Hochbahn's Saarlandstrasse depot.
Hungary: Thales Austria is to design and supply ETCS Level 2 for the 101 km Boba - Bajánsenye section of Pan-European Corridor V, and adapt existing Level 1 equipment. The EU is meeting 85% of the €18m cost.
Lithuania: Eurovia CS and ELT are to modernise the 24·6 km single-track line between Palemonas and Gaiziunai, with 85% of the 75m litas cost to be met by EU funds.
Mozambique: Montara Continental Corp is to supply 33200 timber sleepers to upgrade the route from the Malawi border to Nacala to handle coal traffic for Vale.
New Zealand: KiwiRail has ordered a trial batch of Ecotrax recycled composite sleepers from Axion. They will replace wooden sleepers on turnouts and bridges.
Poland: RK Expol is building a 2·2 km rail link to Swidnik airport on behalf of Lubelskie voivodship.
Portugal: Refer has awarded a joint venture of Fergrupo and Somafel two five-year contracts totalling €465m for track and OHLE maintenance on the Norte, Minho, Douro and Leste routes, and the Oeste, Beira Baixa and Beira Alta lines.
Russia: Evraz has signed a memorandum of understanding with RZD for a contract to supply rail products worth 90bn roubles in 2013-17. This will include the first 100 m head-hardened rails produced in Russia.
Spain: The Basque regional government has awarded a Balzola/Obegisa JV a €149m contract to widen the 640 m Amaña - Ardanza section of EuskoTren's Bilbao - San Sebastián route. The double-track alignment is to be covered and an underground station built in Amaña.
UK: Under NR's Thameslink Programme, 13 km of SilentTrack developed by Tata Steel has been installed at London Blackfriars station. This is the first UK installation of SilentTrack, which uses rail-mounted dampers to reduce operational noise.
USA: Canadian Pacific has awarded Parsons and LifeSpan Technologies a one-year contract to undertake structural monitoring and condition assessment of the railway's bridge over the Mississippi at La Crosse.
Venezuela: China Railway Engineering Group has signed a US$112m contract to undertake works at Palúa port operated by Ferrominera Orinoco. This forms part of a government project to double capacity for handling iron ore shipments.