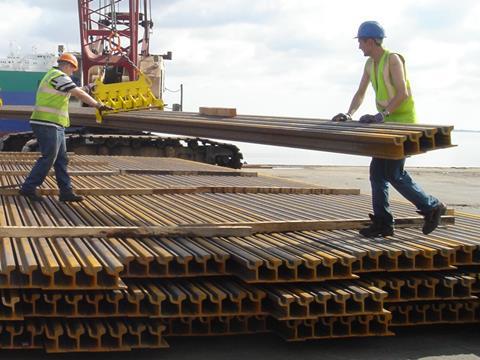 Australia: Transport for New South Wales has appointed Network Rail Consulting to provide systems integration services for its advanced train control programme.
Austria: Wiener Linien has awarded Siemens a €40m contract to modernise signalling on metro Line U4, including installation of automatic train control, replacement of five interlockings and installation of crossovers.
China: Ansaldo STS has signed contracts totalling €37m with United Mechanical & Electrical Co for the implementation of CBTC on Hangzhou metro Line 4, Dalian lines 1 and 2, Shenyang Line 1 and Xi'an Line 2. The companies have also agreed to negotiate contracts for Chengdu lines 1 and 2 and Wenzhou Line S1.
Denmark: Metroselskabet has awarded Hochtief and Züblin a €150m contract to build 3·5 km of tunnels for the København metro Nordhavn branch.
France: RFF and its GSM-R installation and maintenance PPP concessionaire Synerail have awarded Kapsch CarrierCom a contract to modernise the GSM-R network with an all-IP core based on Kapsch's R4 architecture.
Thales is to upgrade interlockings on the 200 km rail network within the Port of Le Havre.
India: Rail Vikas Nigam has awarded GMR Infrastructure, Tata Projects and Kalindee Rail Nirman a Rs3·89bn contract for track doubling, signalling and electrification works on South Central Railway's Secunderabad Division.
Mexico: A Sacyr-led consortium has won a €156m civils contract for the first 8·7 km of Guadalajara light rail Line 3, including construction of seven elevated stations.
Norway: Sporveien Oslo has awarded Torpol Norge a NKr26·5m track and third-rail electrification contract for the 1·6 km Lørenbanen metro extension.
Poland: PKP SA has awarded a consortium led by Budimex a 164m złoty contract to rebuild Bydgoszcz Gówna station, including construction of a four-storey building and restoration of two historic structures.
Track Tec is to supply 5436 concrete sleepers to Tramwaje Warszawskie.
Regulator UTK has approved the operation of Kapsch CarrierCom GSM-R on route E30 from Bielawa Dolna to Wgliniec and Legnica. The supplier says this is the first GSM-R implementation in Poland to comply with the TSI CCS.
Portugal: Refer has awarded Somafel and Conduril a €17m contract to build a 11 km passing loop between Canal-Caveira and Azinheira dos Barros on the Grândola – Ermidas route. Siemens is to supply electronic signalling equipment for €1m.
Serbia: ZS has signed a US$25m contract for Huawei to modernise telecoms on 461 km of Corridor X.
Spain: ADIF has awarded Siemens Rail Automation and Thales España a €209m contract to supply signalling and telecommunications systems for the 114·5 km Antequera – Granada high speed line. This includes maintenance over a 20-year period worth €108m.
CAF Signalling, Revenga Ingenieros and FCC have been awarded a €98·6m contract to supply signalling, fixed telecoms and CTC for the 60 km Vandellòs – Camp de Tarragona section of the Mediterranean Corridor. The maintenance element is worth €40·4m.
A joint venture of Emte, Vimac and Neopol has won a €19·4m electrification contract for the Antequera – Granada high speed line.
FCC Construcción and Acciona Infraestructuras have been awarded a €9.4m contract to lay 27 km of ballasted and slab track between La Robla and the Pajares base tunnel within 12 months.
ADIF has awarded Ferrovial Agroman a €6·2m contract for tracklaying on the 38 km Valladolid – Palencia section of the Valladolid – León high speed line. The 67 km Villada – León section was won by Vías y Construcciones for €7·9m.
Sweden: Trafikverket has awarded Strukton a €40·3m contract to undertake repairs and maintenance on 310 km of the Nynäsbanan and Västra stambanan for five years from October.
Track Tec is to supply wooden sleepers for use at the ports in Ystad and Piteå.
Turkmenistan: Huawei is to supply GSM-R for the 133 km Buzhun – Serhetyaka and 23 km Bereket – Cilmammet sections of the railway under construction to link Kazakhstan with Iran. This will include DBS3800 distributed base stations and tower-mounted remote radio units designed to minimise the impact of antenna feeder loss on radio network coverage while satisfying a local requirement that equipment rooms cannot be located close to the towers.
UK: Network Rail has awarded Balfour Beatty a £16m contract to design and build eight 25 kV autotransformer substations for the Crossrail project.