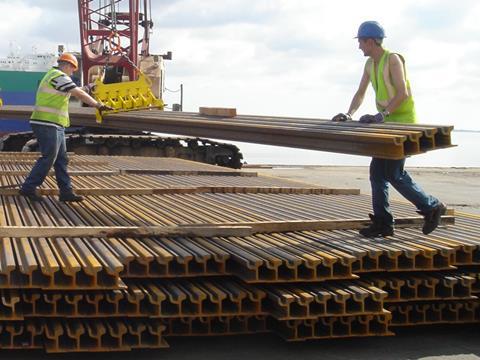 Argentina: The Ministry of the Interior & Transport has awarded Siemens and Tesur a 5266m pesos contract to supply a substation and remote control system for the Buenos Aires – La Plata 25 kV AC electrification project.
Belarus: Sinara's Kalugaputmash has supplied BC with a UK-25 / 28SP tracklaying crane which has widened support arms designed to allow installation of turnouts and track sections up to 25 m long and weighing 30 tonnes.
Denmark: Banedanmark and the Aarsleff-Siemens consortium signed the DKr2·8bn electrification contract on May 29 (RG 6.15 p8).
Finland: Mipro has won a €19·7m contract to supply interlocking, control and passenger information systems for Helsinki's 14 km Länsimetro extension, with an option covering the existing lines.
India: Dedicated Freight Corridor Corp of India Ltd has awarded the GIL-SIL joint venture of GMR Infrastructure and SEW Infrastructure a Rs50·8bn design and build contract covering civil works and track for the 402 km New Bhaupur (Kanpur) – Mughalsarai section of the Eastern DFC.
Israel: NTA has awarded a joint venture of China Railway Group (51%) and Solel Boneh Infrastructure (49%) a 3·1bn shekel contract to undertake civil works for the Tel Aviv light metro Red Line.
North Korea: RZD is to supply second-hand track materials worth 550m roubles including 1 million wooden sleepers and 2 300 tonnes of rail.
Poland: PKP Energetyka has selected Atrem to build a substation at Rylsk to boost the power supply on the CMK trunk line.
PKP PLK has awarded Strabag a 38m złoty contract for modernisation of the Pozna Wschód – Trzemeszno section of the Pozna – Inowrocaw route to increase the line speed to 150 km/h.
Trakcja PRKiI has a 43m złoty contract to expand Warszawa Gdaska station, adding two platform faces to handle additional trains during the closure of Centralna station for modernisation.
Citing faster completion times, PKP PLK has selected Infrakol and Track Tec Construction rather than low bidder Dolkom to modernise the 4 km Gliwice – Sonica-Makoszowy coal line (RG 6.15 p18).
Spain: ADIF has awarded ArcelorMittal España a 12-month contract worth up to €127m to supply rail for track renewal projects on the 1668 mm gauge network. A joint venture of Amurrio Ferrocarril y Equipos and Talleres Alegría has been awarded a €67m contract to supply turnouts.
Sweden: A consortium of Cowi and Systra has been selected to undertake technical planning work on the 65 km third section of the 150 km Ostlänken line linking Stockholm and Linköping,. This is being designed for 320 km/h operation as the first stage of a Y-shaped high speed network connecting Stockholm with Göteborg and Malmö.
UK: Translink NI Railways has awarded Babcock a contract to resignal the Coleraine – Londonderry route; McLaughlin & Harvey will build a passing loop at Bellarena.
London Underground has extended Skanska's four-year contract for civil engineering maintenance by two years.
USA: California High Speed Rail Authority has awarded a Dragados/Flatiron JV a $1·23bn contract to design and build the 100 km package 2-3 section of the line.