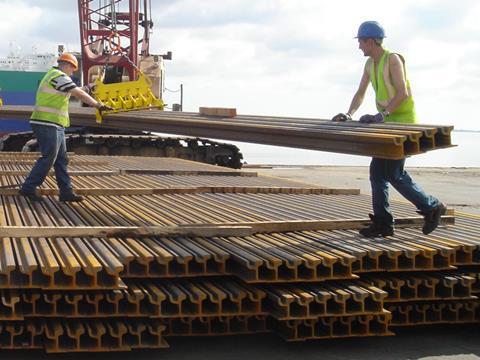 China: China Railway Construction Corp has been awarded a 23·2bn yuan contract to build a railway between Shizuishan and Guyuan.
China Railway Construction Corp and its China Railway Siyuan Group Investment subsidiary are to build Kunming metro Line 5 for 21·4bn yuan.
Chile: EFE has awarded Indra a €6·9m 10-year contract to supply and maintain a multiservice IP/MLS data communications network covering more than 550 km of railway between and around Santiago and Concepción. Two future tenders will cover the rest of the EFE network.
Europe: The four main construction contracts for the Fehmarn Belt fixed link between Denmark and Germany were signed on May 30 by project promoter Femern A/S and its preferred bidders Femern Link Contractors and Fehmarn Belt Contractors (RG 4.16 p8). The contracts worth a total of DKr30bn are conditional upon German environmental approval, and as such they are valid until the end of 2019 with the option to renegotiate. Construction is expected to start in 2018 and take 8½ years.
Finland: Liikennevirasto has awarded MerMec a 10-year contract to undertake inspection and monitoring of the national network, with an optional five-year extension. MerMec will supply and operate a self-contained electro-diesel Roger 800 test car from January 2019.
India: Dedicated Freight Corridor Corp of India Ltd has awarded a consortium of L&T and Instalaciones Inabensa an Rs8·47bn contract for the 25 kV electrification of the 417 km Mughalsarai - New Bhaupur section of the 1840 km Eastern DFC.
Poland: ZUE and Strabag have won a 31·6m złoty contract to build a 1·5 km tramway extension from Tarchomin to Nowodwory in Warszawa.
ZUE is to modernise 8 km of the Kraków freight bypass for 35·8m złoty.
Spain: ADIF has awarded Cobra Instalaciones y Servicios a €102m contract to provide specialised maintenance support services for signalling equipment in six of seven zones across the 1668 mm and 1000 mm gauge networks. Instalaciones Alfar has been awarded a 24-month contract worth €22m covering the Central zone.
Sweden: Trafikverket has selected NCC to build a 2 km section of the Västlänken tunnel under central Göteborg, including an underground through station adjacent to the existing terminus. An early contractor involvement model is to be used, with the estimated SKr3bn cost to be finalised in 2017 ahead of construction in 2018-26.
Turkey: Powerlines Products is to supply overhead electrification equipment including 1400 GRP cantilevers, for the tramway being built in Izmir.
USA: RailPros has awarded CH2M a planning, risk assessment and vehicle procurement services contract for the Redlands Passenger Rail Project to modernise and introduce passenger services on a 14 km corridor owned by Sanbag and connecting to Los Angeles Metrolink commuter rail lines.
Uruguay: The Ministry of Transport has awarded Comsa a 24-month contract for track renewals on a 327 km section of the AFE network between Piedra Sola and Salto. The Mercosur block is providing funding.