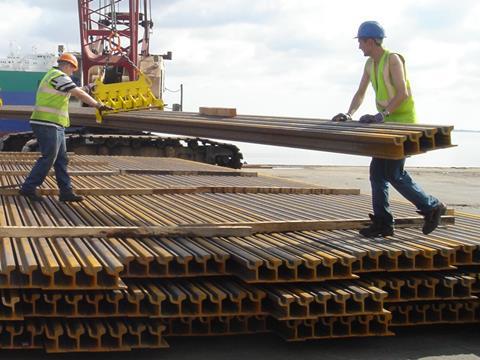 Australia: Metro Trains Melbourne has selected Extreme Networks' ExtremeSwitching 10G Ethernet for its CCTV and video systems.
Chile: Metro de Santiago has awarded Alstom a €4·5m contract to supply 87 point machines.
Croatia: A contract for the modernisation and electrification of the 23·8 km Zaprešić – Zabok line which is to be incorporated into the Zagreb suburban network was signed by HŽ Infra and Swietelsky on June 12. The EU is meeting 85% of the 614m kuna cost.
France: CIM is to fit out the depot for the future Paris tram Line T9, supplying a wheel lathe and lifting systems from its SEG and Mechan subsidiaries.
New Zealand: KiwiRail has awarded a Fulton Hogan/John Holland Australia JV a NZ$49m contract to renew the overhead electrification on Wellington's Hutt Line, replacing timber poles with steel masts and putting signalling power supplies underground.
Poland: Intercor has won a 68·2m złoty contract to modernise a 1·6 km section of the Łódź tram network.
PKP PLK has selected Infra Silesia for a 76·5m złoty contract to modernise Kłodzko Miasto station, including resignalling and electrifcation renewals.
Thailand: Nippon Signal has awarded Thales a contract to supply ETCS Level 1 for the Bangkok Red Line.
UK: Network Rail has renewed its
National On-Track Tamping contract with VolkerRail for a further seven years in an agreement worth £100m. VolkerRail will supply 10 tamping machines, two ballast regulators and operating teams; it expects to procure more tampers in 2019-20.
Galliford Try is building a subway at Newton-le-Willows station using a tube canopy method instead of pipe jacking, which would not provide the control of settlement necessary to enable trains to continue running during the works.
Transport for London has awarded British Steel a two-year extension to its 2012 framework contract for the supply of rails to London Underground. It covers 4 000 tonnes of rail a year, and for the first time this will include HP335 wear resistant rail and Zinoco coated rail.
Uruguay: Bids for the Ferrocarril Central PPP to upgrade and maintain the 273 km line between Montevideo and Paso de los Toros have been submitted by Acciona Construcciones, Via Central (Saceem, Berkes, Sacyr, FNG), and C-Mec with SDHS of China.