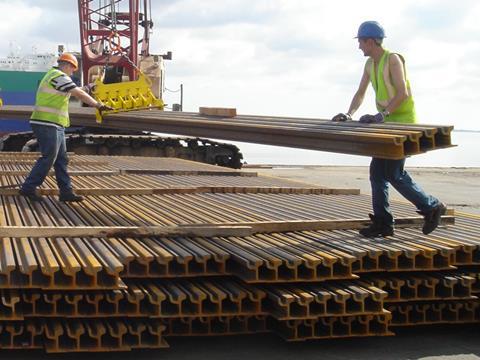 Australia: Laing O'Rourke, Jacobs and Metro Trains Melbourne have signed a A$89m contract to elevate the line at Toorak Road in Melbourne to eliminate a level crossing.
e+ Architecture is to plan the refurbishment of Bendigo station in Victoria.
Bangladesh: Pandrol is to provide Larsen & Toubro with VIPA DRS rail fastenings and e2007AV clips for the 19 km Dhaka Metro Line 6 project.
Croatia: HŽ Infrastruktura has awarded Granova, ŽPD, Institut IGH, Rijekaprojekt and IPZ a 10·7m kuna contract to prepare documentation for modernisation of the 131 km Okučani – Vinkovci line .
HŽ Infrastruktura has awarded Končar KET a €9·9m World Bank funded contract to supply lights and barriers to modernise 49 level crossings.
Czech Republic: SŽDC has awarded a consortium led by Eurovia CS a KC3·22bn contract for Phase 2 modernisation works at Přerov, including double-tracking, 3 kV DC catenary upgrading and resignalling to raise speeds to 160 km/h.
Europe : RB Rail has selected IDOM for a €11·4m contract to provide design and supervision services for the 48 km Tallinn – Rapla section of Rail Baltica. Latvian Rail Baltica implementation agency Eiropas Dzelzceļa Līnijas has awarded the Besix Rere joint venture a €430·5m design and build contract to reconstruct Riga Central station.
Mongolia: Kaisun Holdings and China Railway Engineering Construction Mongolia have signed an agreement for construction works at the Choir freight yard to handle traffic on the Russia – China transit corridor.
New Zealand: Turner & Townsend is to provide cost management services for Auckland's City Rail Link project.
Spain: Adif has awarded Guarconsa a contract to supply overhead contact wire as part of the project to install mixed gauge on the Martorell – Nudo de Vilaseca section of the Mediterranean Corridor in Catalunya.
Switzerland: Baselland Transport has awarded SPL Powerlines Germany a SFr1·3m contract to renew tram overhead electrification between Zoo and Binningen Oberdorf, erecting 27 masts, 35 aluminium double-track cantilevers and 2·5 km of overhead lines.
UK: VolkerRail has taken delivery of the first of two Matisa B66UC universal continuous action tampers with a Caterpillar C18 engine, which it expects to provide a faster and more efficient tamping cycle and lower emissions and noise compared to older designs.
Network Rail has awarded BAM Nuttall a contract to build the first phase of the extended Dawlish sea wall. The project is expected to take nine months, with work stopping during the summer tourist season.
USA: Massachusetts Bay Transportation Authority has awarded Fischbach and Moore Electric a $26·5m contract to resignal 1·6 km of complex tracks around Boston's North station, to increase capacity and relocate equipment above the 500-year flood plain. MBTA has also begun procurement of long lead time items for a 3½ year project to replace a lifting bridge across the Charles River.
Wabtec has been awarded a $55m contract to implement PTC on the 160 km New Mexico Rail Runner Express route from Belen to Albuquerque and Santa Fe by late 2020.