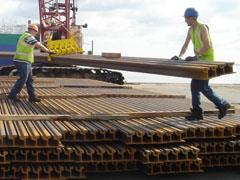 Australia: Under Victoria's Regional Rail Link project (RG 2.12 p12), a A$570m contract has been awarded to a consortium of John Holland, Abigroup, Coleman Rail, Aecom and GHD for extensive remodelling of the line between Melbourne's Southern Cross station and the Maribyrnong River, including 4·5 km of new tracks and a 1 km bridge over the river.
Brazil: Trail, Consbem and Tiisa have been awarded a R$1649m contract to build a rolling stock depot at Presidente Altino on Line 9 of the CPTM commuter network in São Paulo within 24 months.
Chile: Metro de Santiago has appointed Arup to design 11 stations for the future lines 3 and 6.
China: Alfasi Constructions has appointed Aurecon to undertake computer-based erection analysis and geometry control for the steel roof for the future West Kowloon terminus of the Hong Kong Express Rail Link (RG 2.11 p45).
Europe: Rail.One's local subsidiaries have won contracts to supply 337000 concrete sleepers for route upgrades in Hungary and 230000 sleepers plus 11000 m of turnout bearers for Romania
Sersa Group has acquired a custom-made Möser GRail 1 rail re-profiling, corrugation removal and contact grinding machine suitable for use on street-running urban tramways and any gauge from 980 to 1660 mm.
Hungary: Infrastructure agency NIF has awarded Thales Austria an HF51bn contract to supply ETCS Level 2 signalling for the Bajánsenye - Boba section of Pan-European Corridor V by September 2014.
India: IL&FS Rail was the sole bidder for Phase 2 of the Gurgaon Rail Metro Rail project. This covers two 7 km extensions to the automated line. Phase 1 is scheduled to open in March 2013.
New Zealand: Downer New Zealand has been awarded a NZ$40m contract to build the Wiri depot for Auckland's EMU fleet.
Poland: PNiUIK has been awarded a 25m złoty contract to modernise 15 km of track around Warlubie.
Saudi Arabia: Saudi Binladin has awarded Eversendai a 193m riyal subcontract to erect steelwork for the future King Abdul-Aziz International Airport station in Jeddah.
Spain: The Basque government has awarded a joint venture of Dragados, Amenabar, Comsa, Leza and Isolux Corsán-Corviam a €153m contract for civil works on the 49 km Zizurkil - Andoain section of the high speed line between Bergara and the French border at Irún. Work to be completed within 46 months includes a 4718 m tunnel and a 200 m viaduct.
ADIF has awarded Acciona and Copcisa a €68m contract to undertake additional works at Sant Andreu on the La Sagrera - Nudo de la Trinitat section of the high speed line between Madrid and the French border.
Invensys Rail Dimetronic has completed resignalling of the 24 km Montcada-Bifurcació - Terrassa section of the Barcelona suburban network. This included installation of three Westrace interlockings and jointless audio-frequency track circuits.
Turkey: Plasser & Theurer has delivered two Unimat MF multi-purpose tamping and lining machines to Turkish customers.
Turkmenistan: Turkish firm Net Yap has been awarded a contract to provide power supplies for the Kazakhstan - Iran line which is nearing completion.
UK: DP World has awarded Balfour Beatty Civil Engineering a contract to build the first of three rail terminals for the London Gateway port project, and to double-track the railway to the site.
The Signalling Solutions joint venture of Alstom and Balfour Beatty has been awarded a €24m contract to install Smartlock interlockings controlled from Basingstoke to replace four mechanical signalboxes on the 19 km Poole - Wool line.
USA: Contra Costa Electric is to install electrical systems for the stations and depot on the 5 km peoplemover which will link BART to Oakland International Airport.